Bridge Builders: Belt and Road
Tineke van Gils: A Dutch Ceramic Artist's Journey Between Two Countries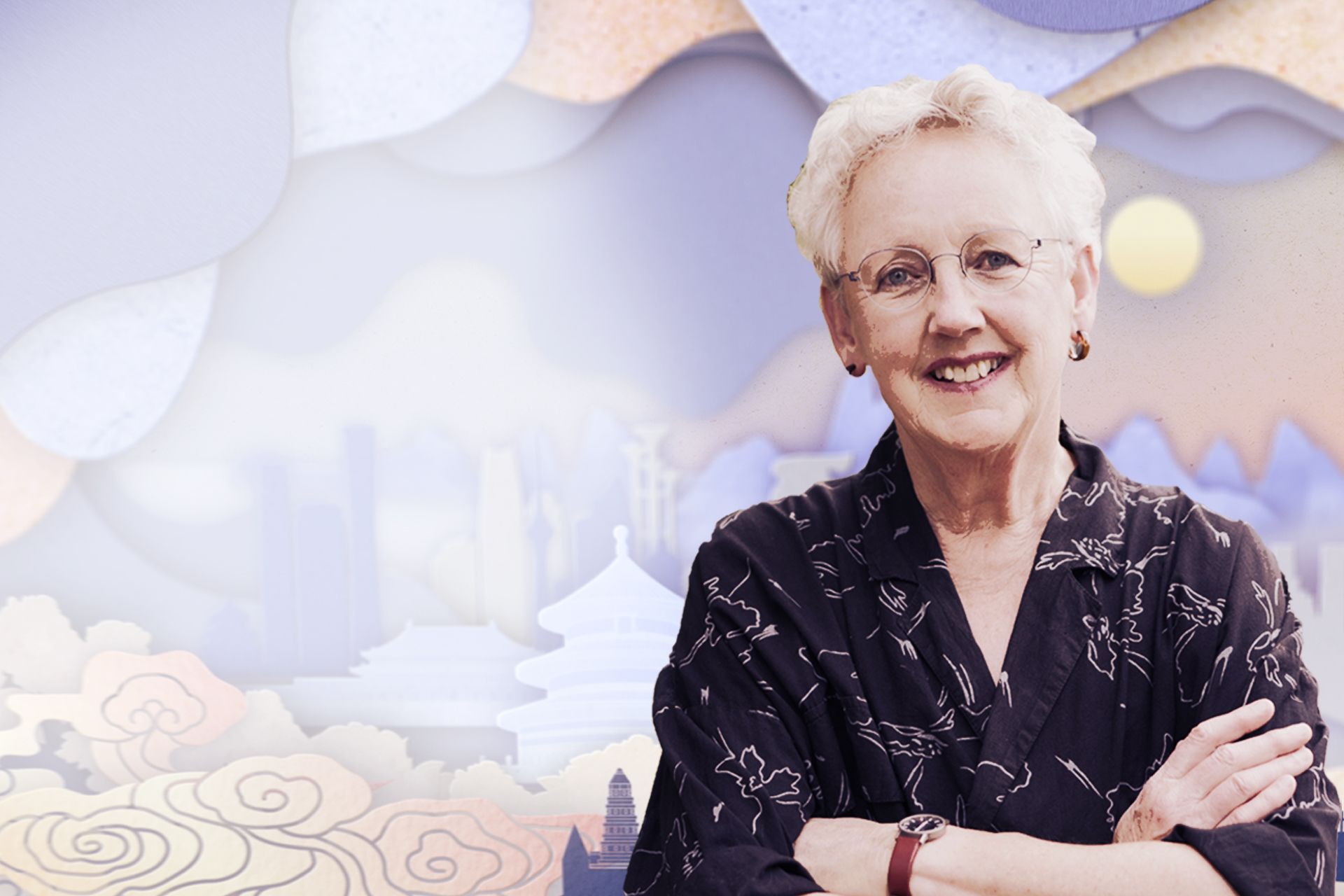 I love the Dehua white porcelain – the 'Blanc de Chine,' that's what I call her. She's like a teenage girl.
When the first batch of porcelains were brought to Europe in the 16th century along the ancient Silk Road, nobody knew how far-reaching the influence of the dazzling wares would be on both cultures.
Not only was the porcelain referred to as "china" to reflect its homeland, but it left trails on the cities and their inhabitants right up to the present day. One of those places is Delft in the Netherlands, and that city's Tineke van Gils, one of the best-known Dutch ceramic artists, is one whose life has been bonded with porcelain and the place it comes from: China.
Van Gils started her ceramic career in Amsterdam in 1984 by making tablewares for dozens of restaurants for 15 years. A turning point occurred to her career in 1996 when she moved to Delft – another place synonymous with porcelain.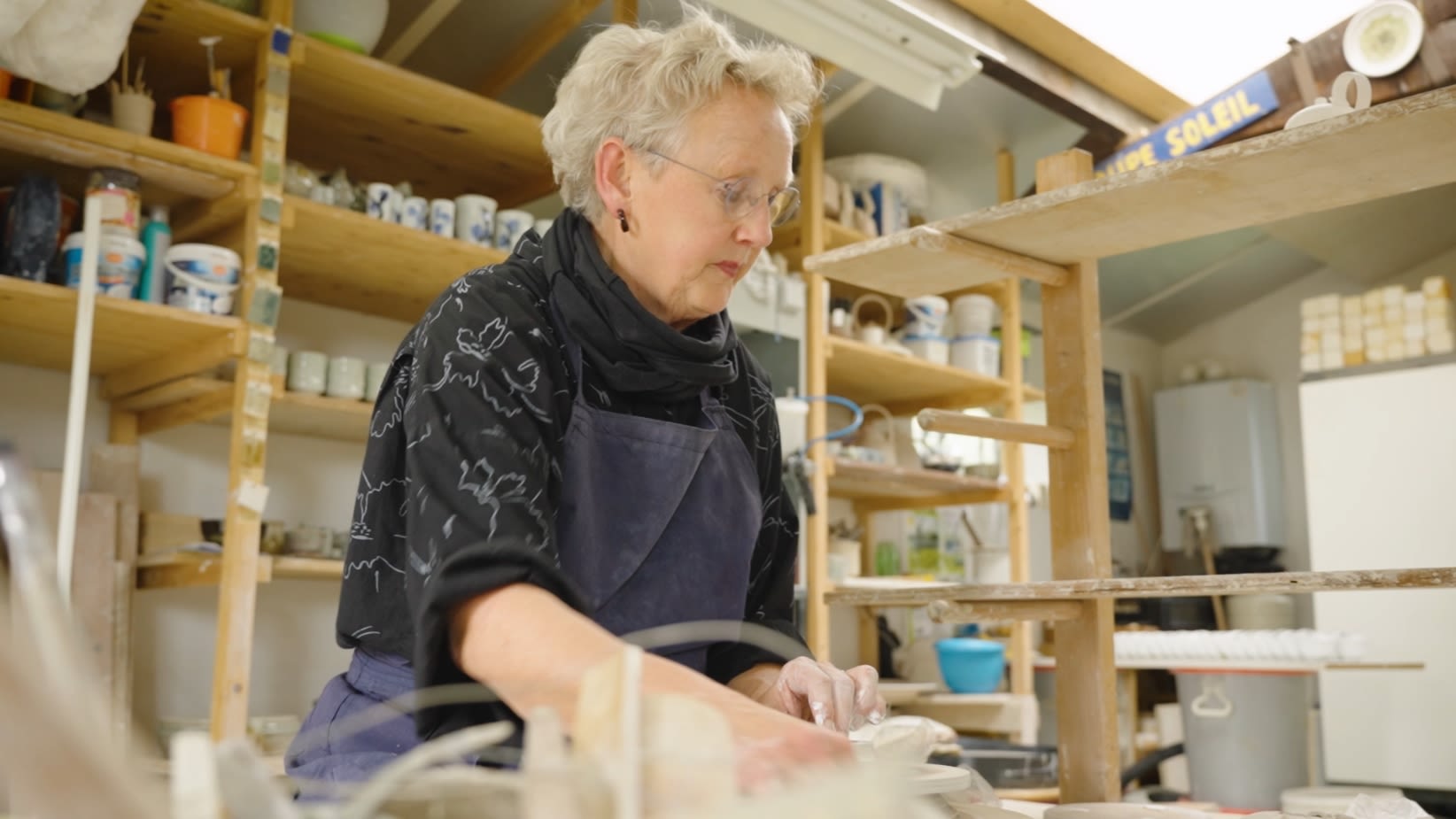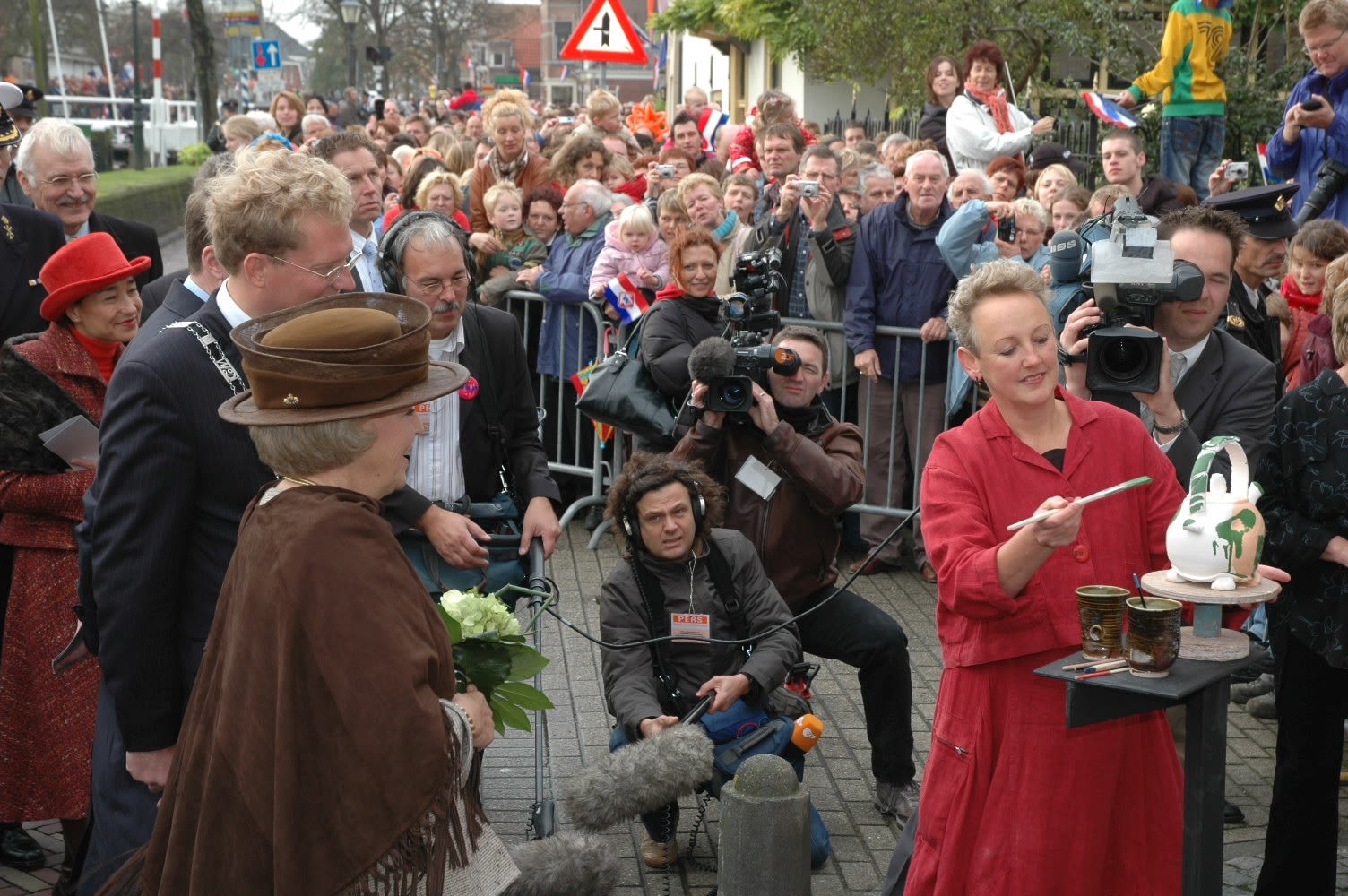 A Bridge Built by Porcelain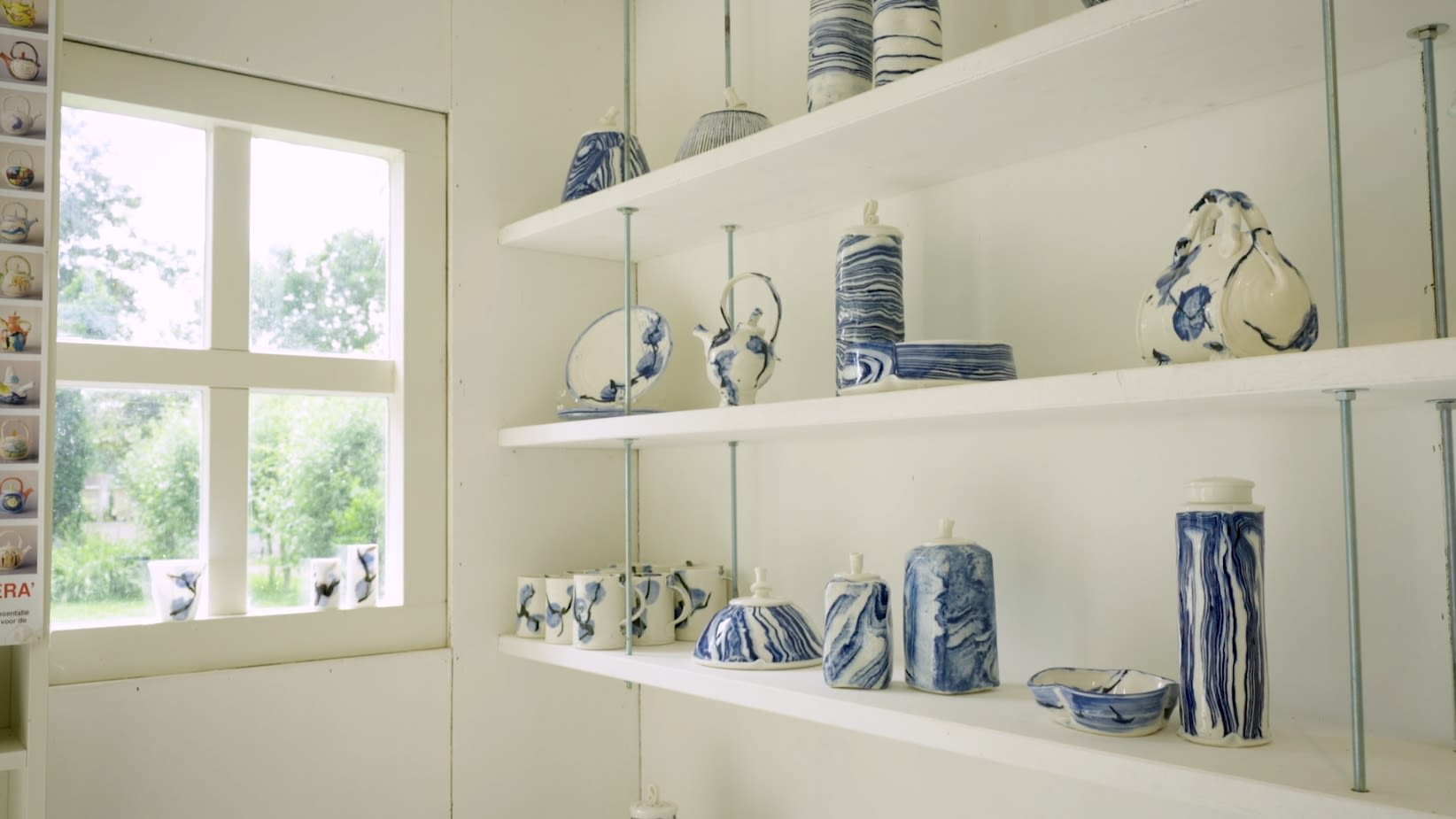 Delft blue porcelain, featuring the colors of white and blue, has made the name of the city known worldwide. Delft blue derived back in the 16th and 17th centuries from Chinese blue-and-white porcelain, which was produced mainly in Jingdezhen, known as the "porcelain capital" of China.
After moving to Delft, Van Gils decided that she wanted to shift her career focus from making tablewares to making "storytelling" teapots, and launched her own studio in Delft. The decision had a chain reaction which finally led her to China.
Her artistic creations were well-received, and she was invited to make 100 pots for a production of the opera Turandot, set against the historical background of Chinese Yuan Dynasty (1271-1368). Invited to visit Dehua City in Fujian Province, she fell in love with not just Chinese porcelain, but also the culture.
"I love the Dehua white porcelain – the 'Blanc de Chine,' that's what I call her. She's like a teenage girl," she enthuses, her eyes still shining with admiration. "When I got back home, I told everyone that 'Blanc de Chine' is the most beautiful girl in the classroom."
Van Gils' journey brought her more than just aesthetic pleasure.
She was amazed by the materials people used to make Dehua white porcelain, and was astonished to find that porcelains could be made eggshell thin. She also learned about how ancient dragon kilns work in the mountains.
All this new knowledge and experience inspired her to further develop her own skills in creation. She found that she was able to make thin porcelains with the clays in Dehua out of one move, which she later further developed into her special expertise.
But Dehua was just the beginning of her journey into Chinese porcelains. A few years later, she was invited to Jingdezhen for an artist exchange project.
The Lingering Influence of the Silk Road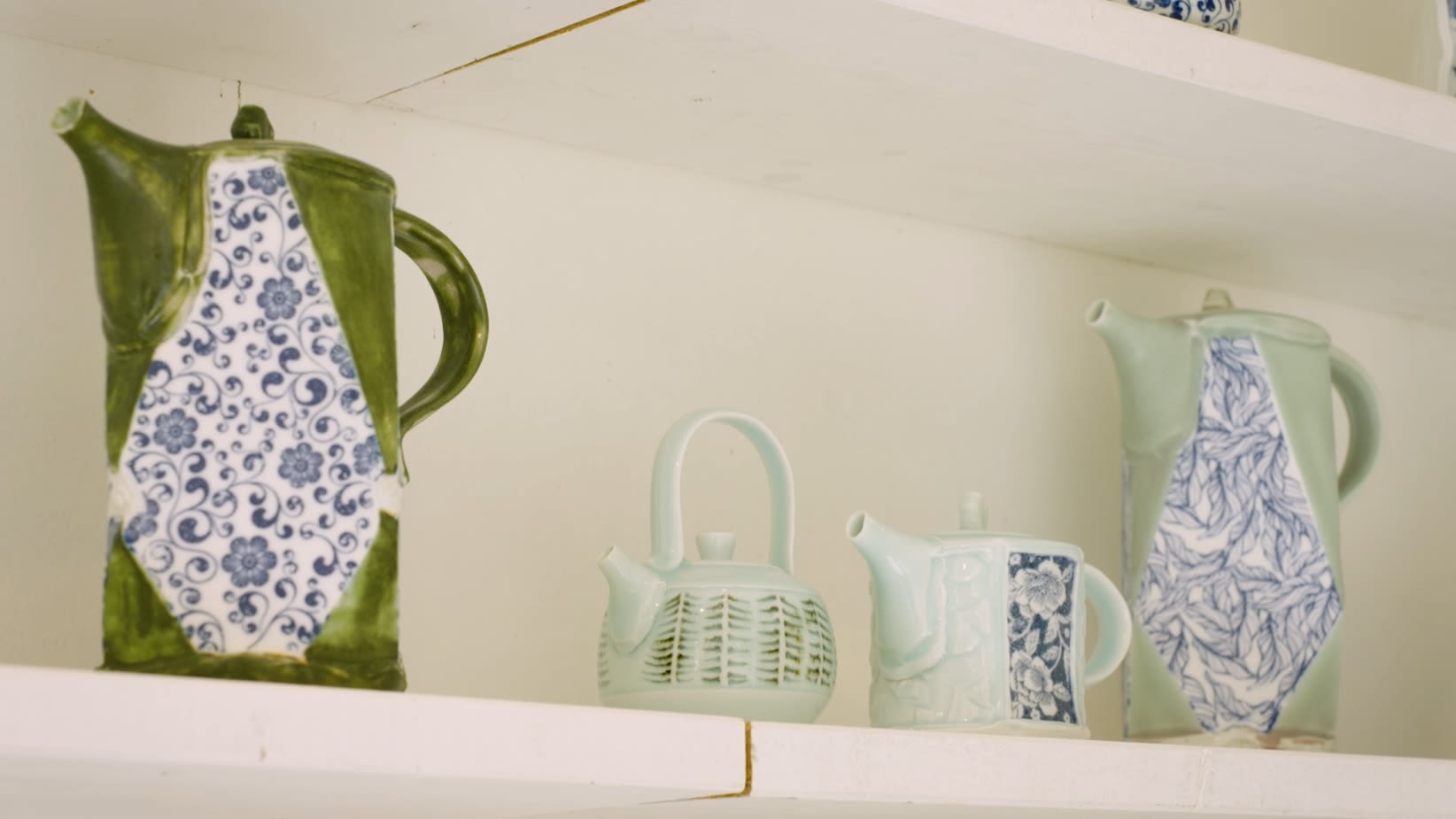 I learned in China to think big.
Van Gils has learned through experience how important it is to embrace a different culture.
While staying in Jingdezhen, she decided that she wanted new ideas, new techniques and new inspirations. She roamed down the streets of the porcelain capital, collected ready molds for her teapots, and cooperated with local painters to create a completely different style.
"That was a real exchange," Van Gils smiles. "I learned in China to think big. You can always have your idea realized there, because you get help and they encourage you. It is impossible in the Netherlands."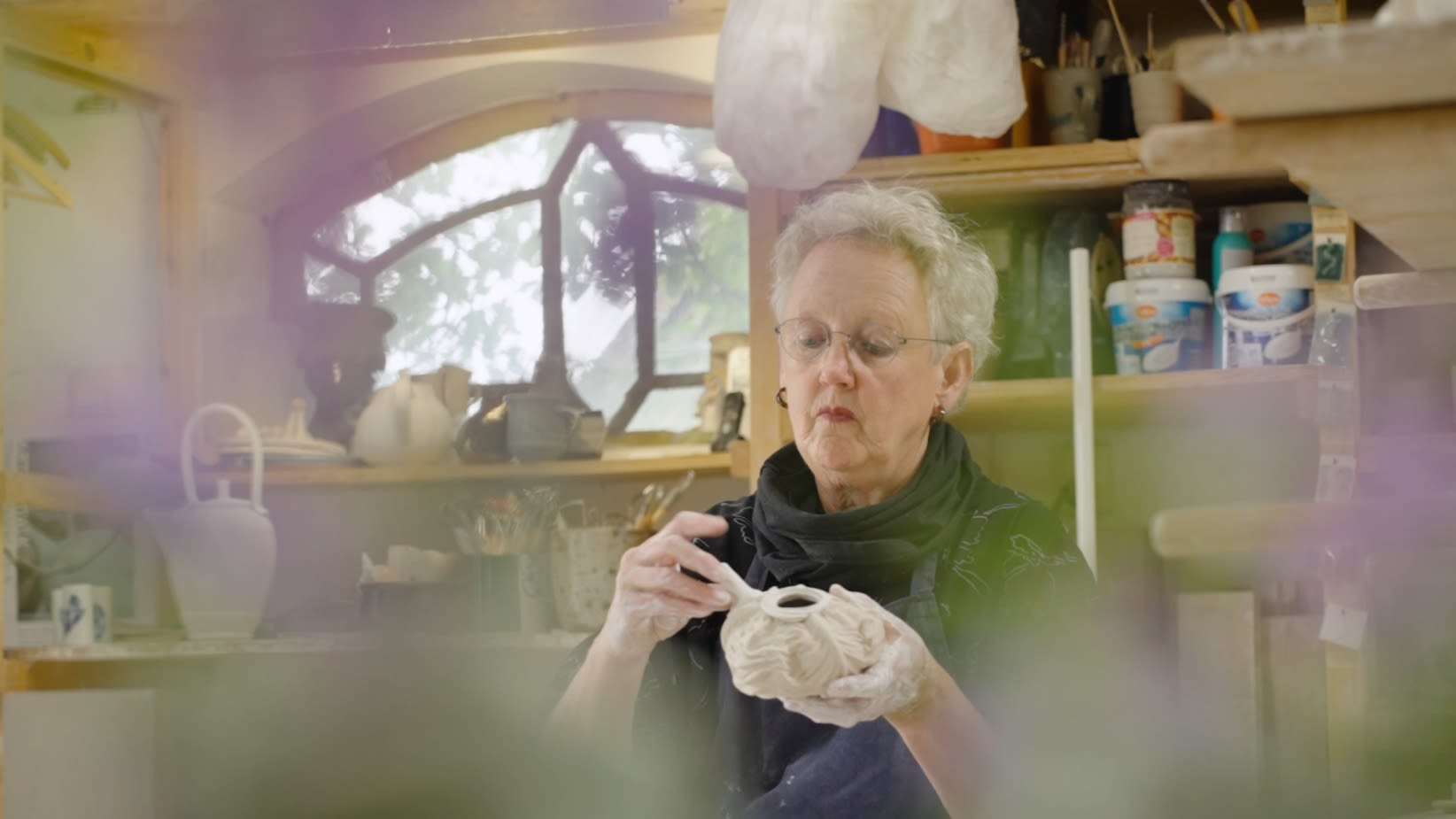 For Van Gils, the two cities connected by the ancient Silk Road since the 16th century met one another in her life. Her creations went on display at the "Blue Revolution" exhibition in Delft, which was co-hosted by the two sister cities, Delft and Jingdezhen.
The journeys through Dehua and Jingdezhen have embedded Chinese culture in her life, too. She hosted a big Chinese New Year celebration after returning home, inviting porcelain artists from all over the Netherlands in order to introduce them to the Chinese porcelains and sharing her love of the culture – including her favorite "Blanc de Chine."
"It's not my intention to be a bridge builder," she insists. "I just did it spontaneously."
Van Gils says that the ancient Silk Road didn't just boost trade between different countries: more importantly, it brought an exchange of cultures.
"I hope there will be other artist-in-residence programs as well," says the artist, looking forward to another tour of China. "I hope we can go to China again."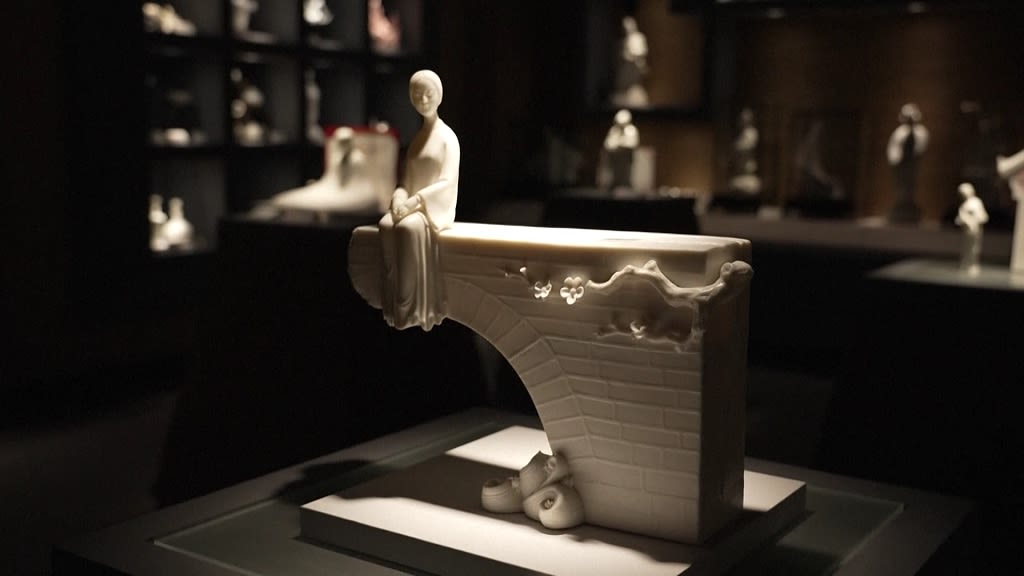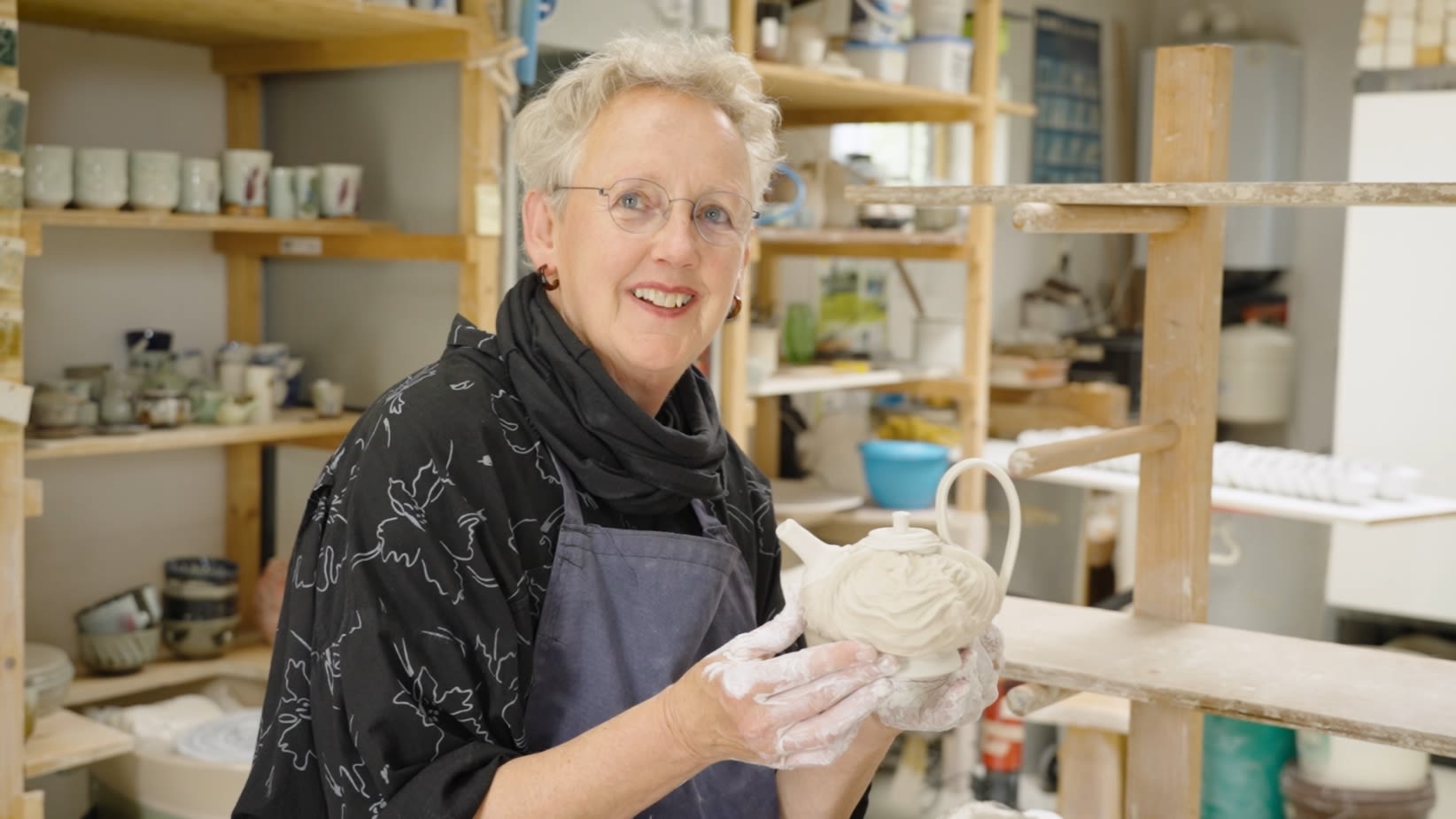 Art Can Say More Than Words
Art can talk where words end. I think that's an important thing.
Beyond art, there is always more to expect from cultural exchanges. For Van Gils, the people she met during her visits to China left her with deep impressions.
As an example, she mentions one of her friends in Dehua, who welcomed her by making the clay he was working with into a teapot shape resembling the artist's creation.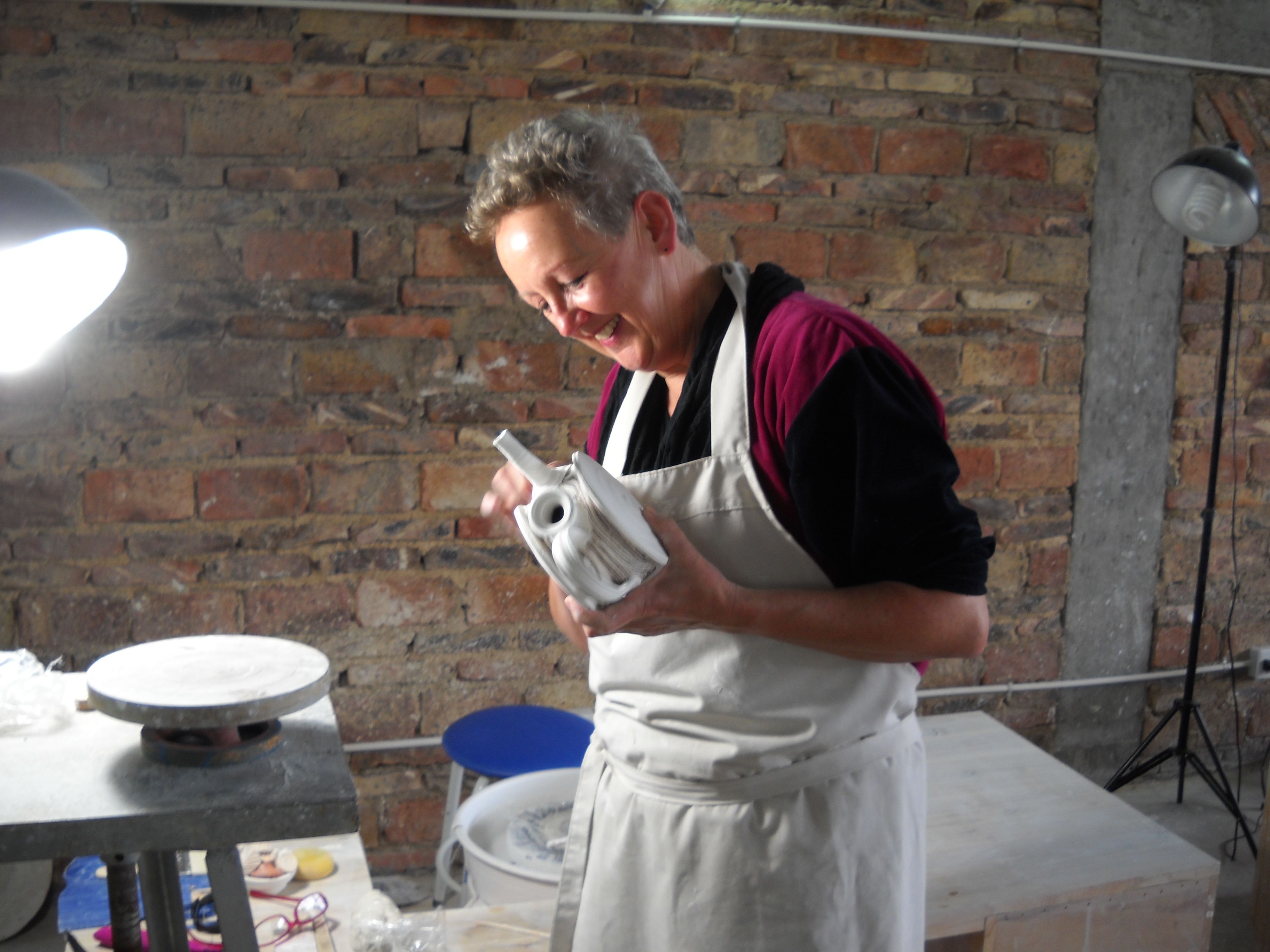 "Without words, he laughed and smiled, and I recognized the basic shape of my teapot in his saggar," she recalls. "We had a very special moment. His welcome to me was more than words could say."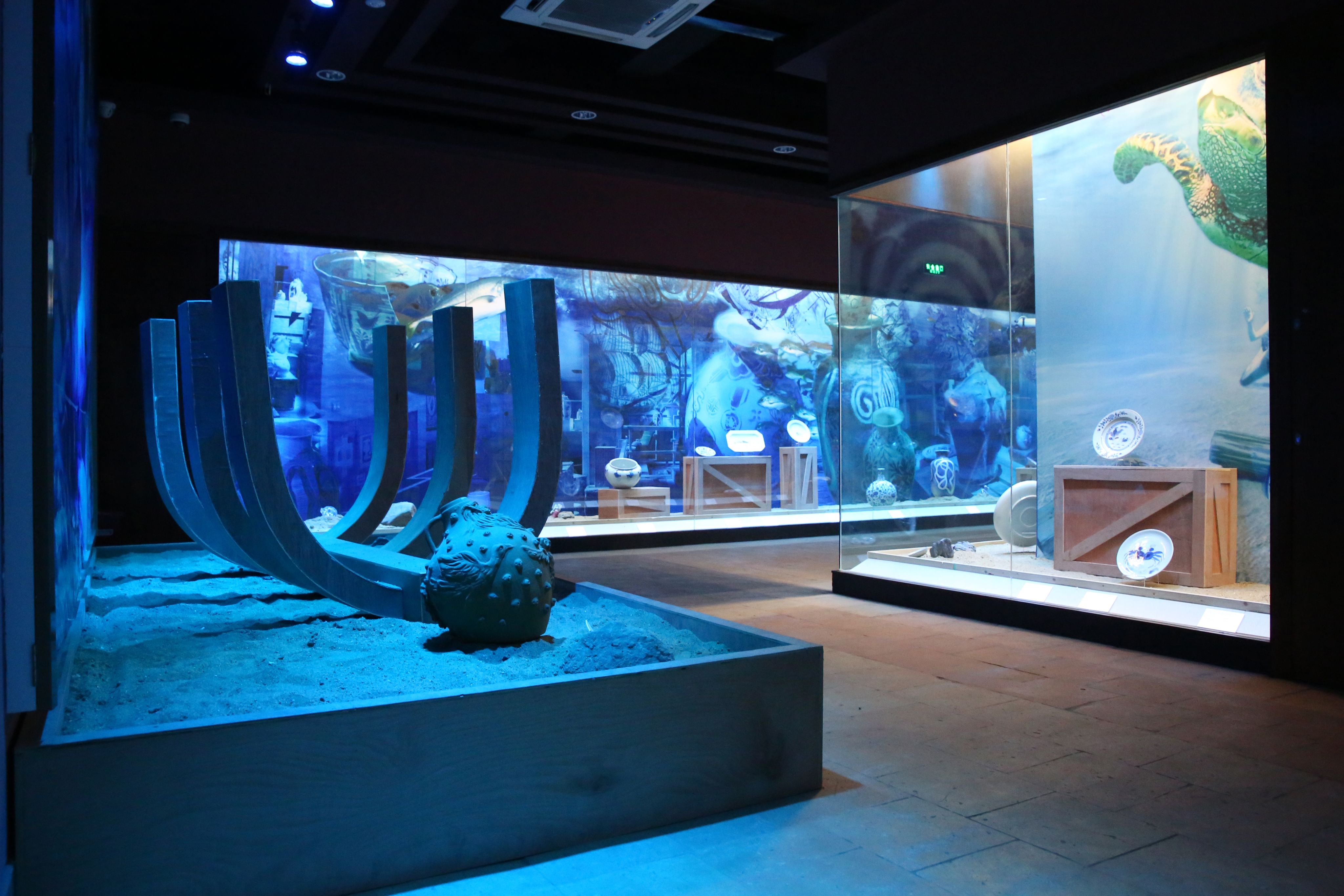 Compared with words, art can express far more, as the artist has repeatedly said: "Art can talk where words end. I think that's an important thing."
As cultural exchanges and communications resume with the end of the COVID-19 pandemic, Van Gils says she is now looking forward to working with Chinese peers again. She has recently sent one of her latest creations to the International Ceramic Art competition in Beijing – and the work was nominated.
"The cultural exchange between China and the Netherlands has no limits," she says.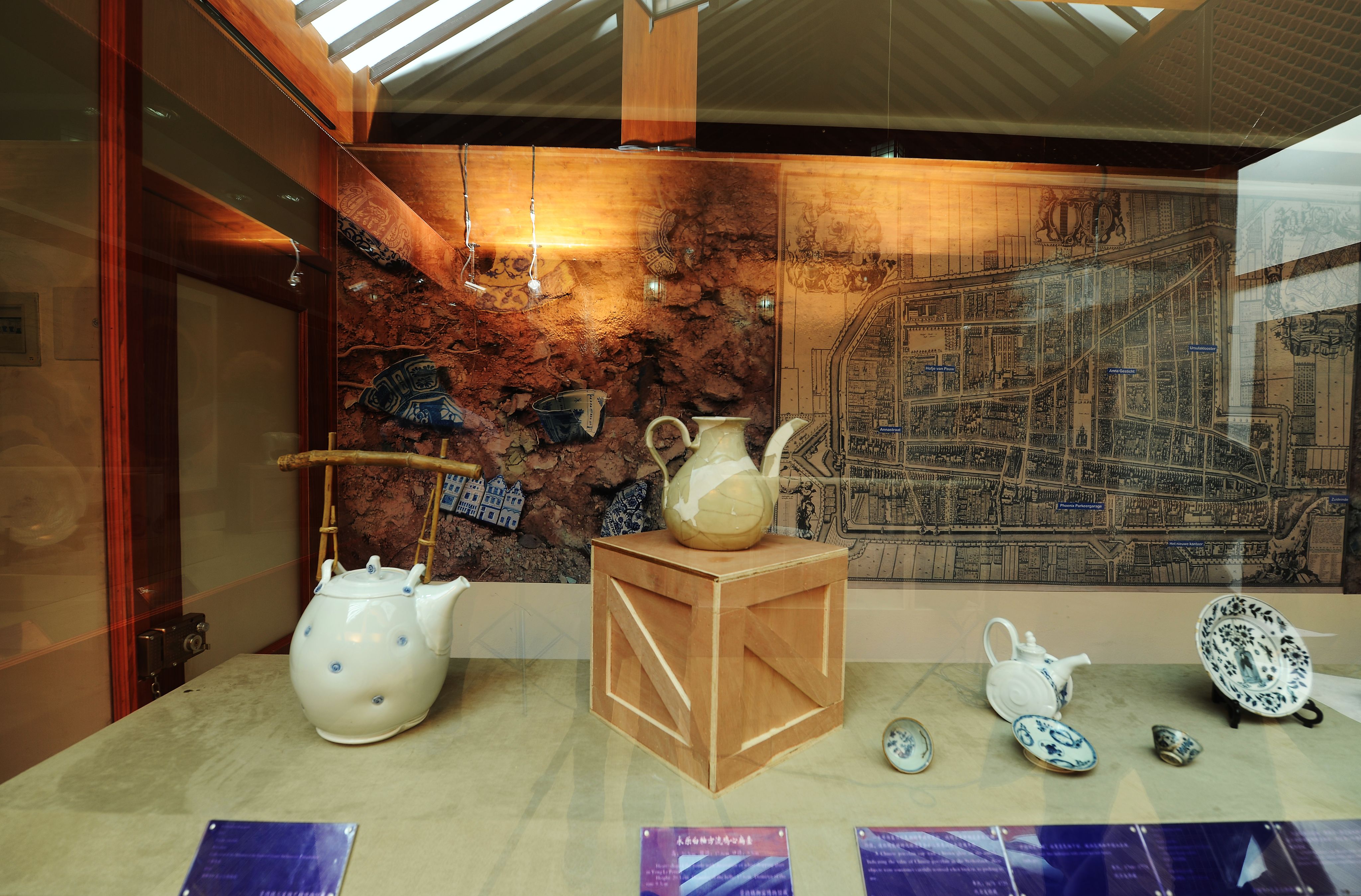 The artistic works of Tineke van Gils are on display. /Tineke van Gils
The artistic works of Tineke van Gils are on display. /Tineke van Gils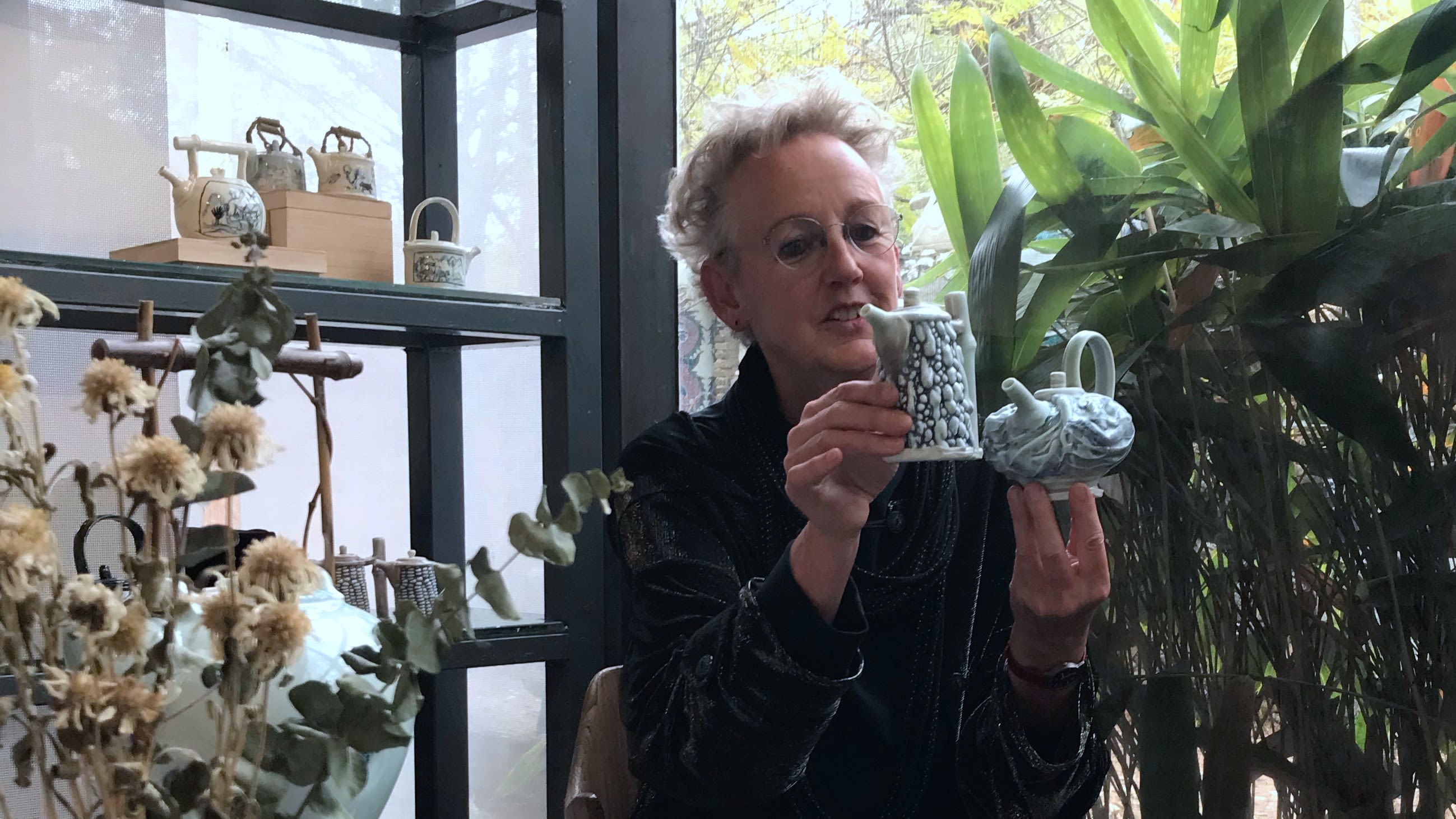 Tineke van Gils is introducing her artistic works of teapots. /Tineke van Gils
Tineke van Gils is introducing her artistic works of teapots. /Tineke van Gils

Item 1 of 3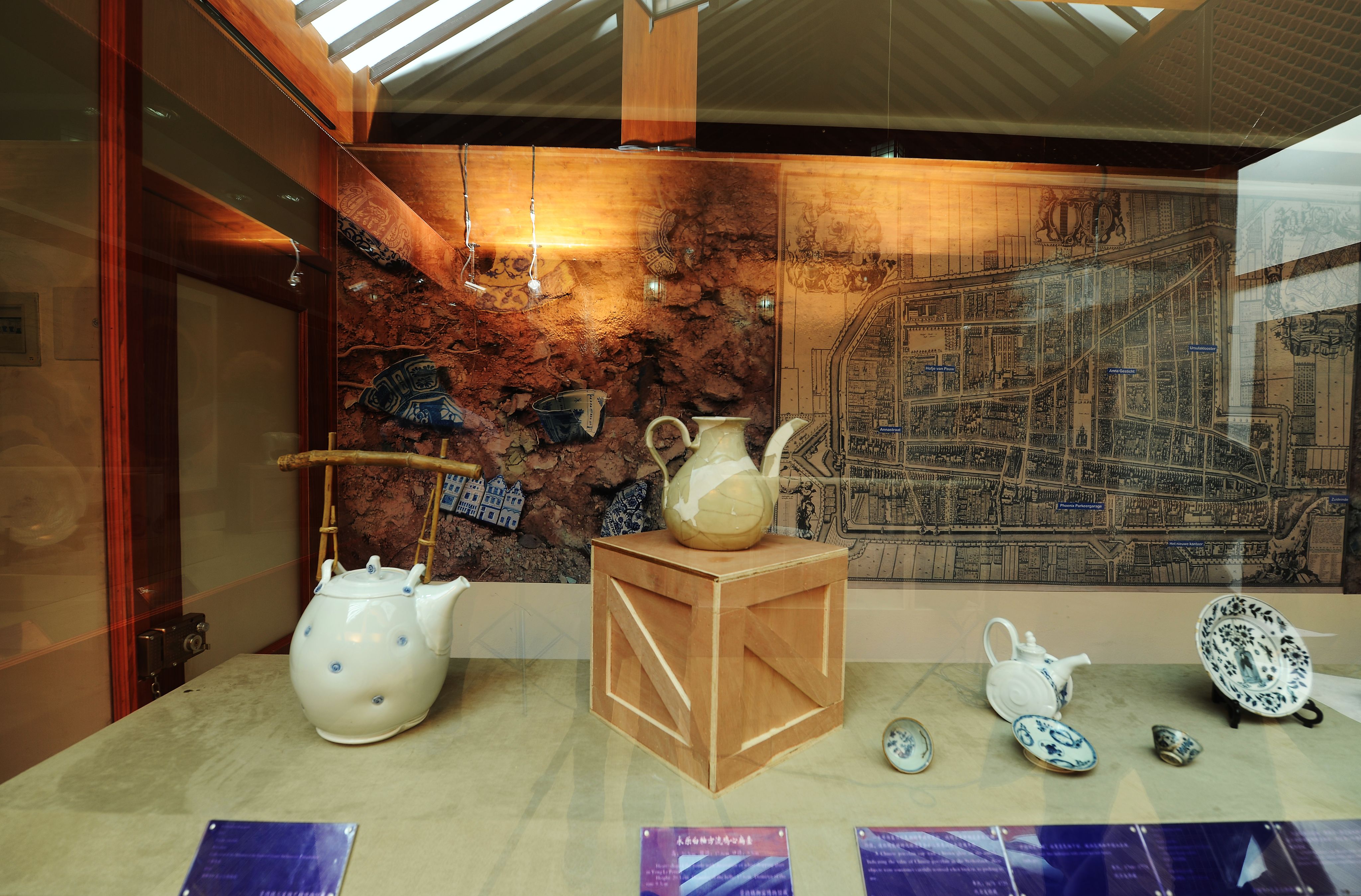 The artistic works of Tineke van Gils are on display. /Tineke van Gils
The artistic works of Tineke van Gils are on display. /Tineke van Gils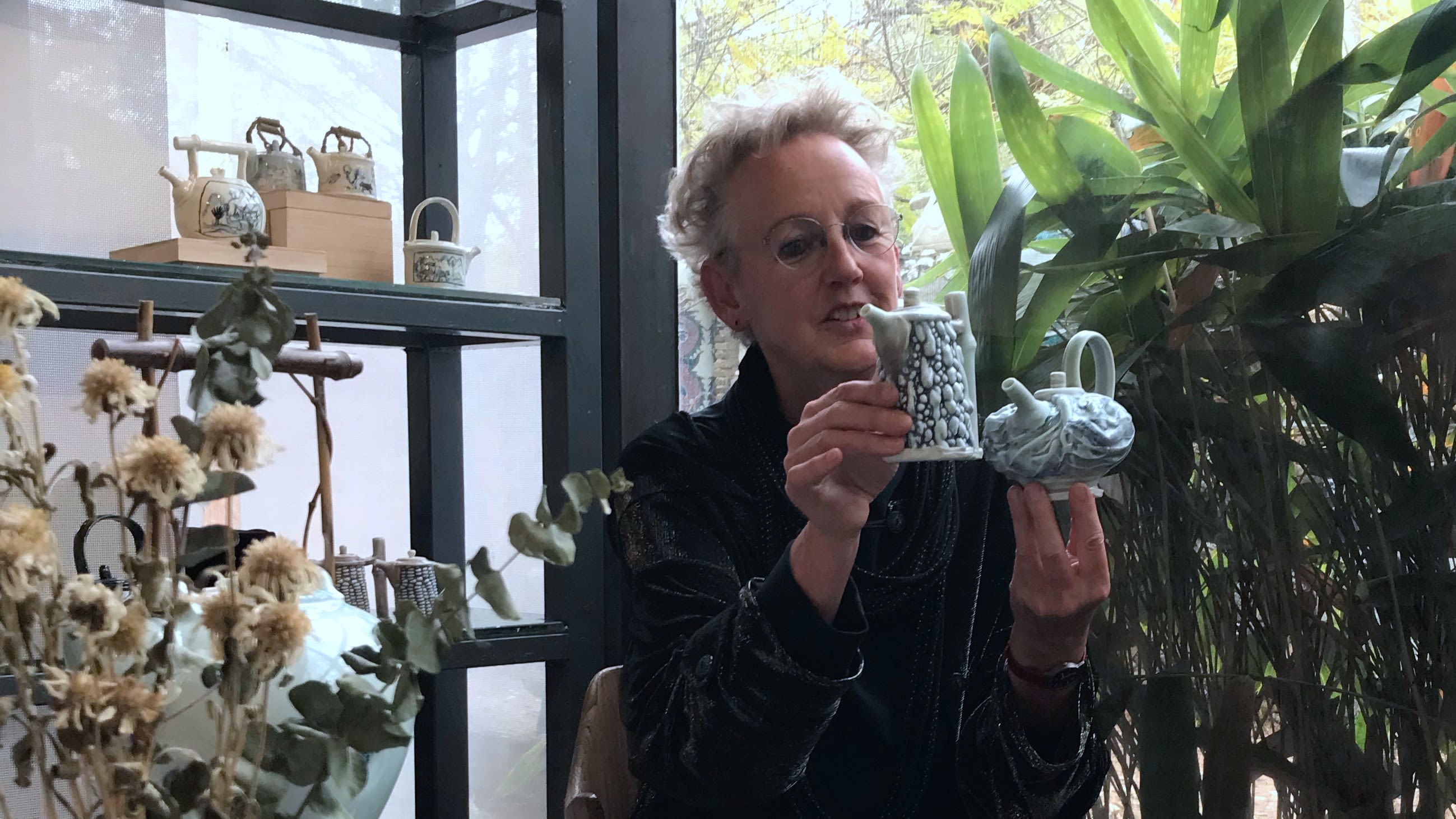 Tineke van Gils is introducing her artistic works of teapots. /Tineke van Gils
Tineke van Gils is introducing her artistic works of teapots. /Tineke van Gils

Chief Editor Guo Chun
Producer Chen Pan
Reporter Martin Egan
Photographer Francisco Javier Martinez Adrados
Video Editor Tom Brittle
Digital Ai Yan
Copy Editor Gary Parkinson