The owners
of the soccer clubs involved in the failed European Super League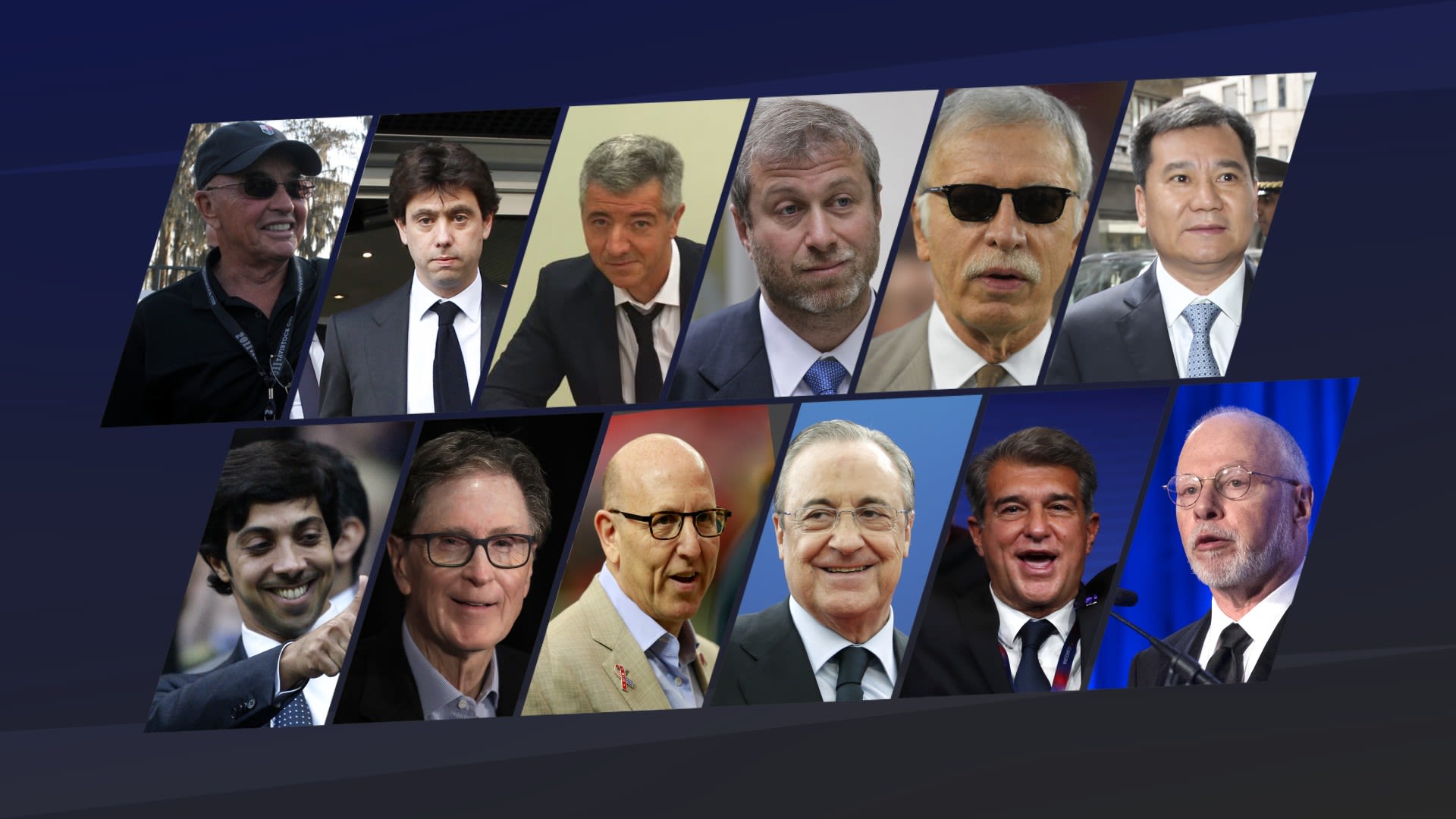 For players and fans the game is about winning trophies; for shareholders and owners, it is a business. As unedifying as that sounds to the supporters who took to the streets to protest against the proposed European Super League (ESL), when it comes to soccer, it is big business.
In Europe alone, the game generates more than $25 billion a year, according to Deloitte – so while owning a soccer club was once a plaything for the megarich, now it is also an investment vehicle or marketing opportunity for hedge fund managers, retail magnates, oligarchs and wealthy royal families.
As the apologies flood in from the people in charge of Europe's so-called "elite" clubs over the plans to form a breakaway league that stunted competition and ring-fenced revenues, many are asking who are the people behind the move and what motivated them?
Following Sunday's surprise announcement, fans and pundits have labeled them the "Dirty Dozen," after the famous Hollywood World War II movie of that name.
They are all male, range in age from 45 to 84 and have proven substantial business successes.
Only five of them have historical links to the clubs they run and fewer than half regularly attend their team's matches. But their investments have funded the construction of world-class stadiums, employed the best talent and harnessed lucrative sponsorship deals and marketing rights that generate thousands of jobs and provide entertainment for billions globally.
Pundits have described these owners as "faceless" and "soulless" – and as CEOs resign and retractions are published, we reveal who is really pulling the strings at European soccer's biggest clubs.
CLICK THE NAVIGATION BAR TO SCROLL TO A TEAM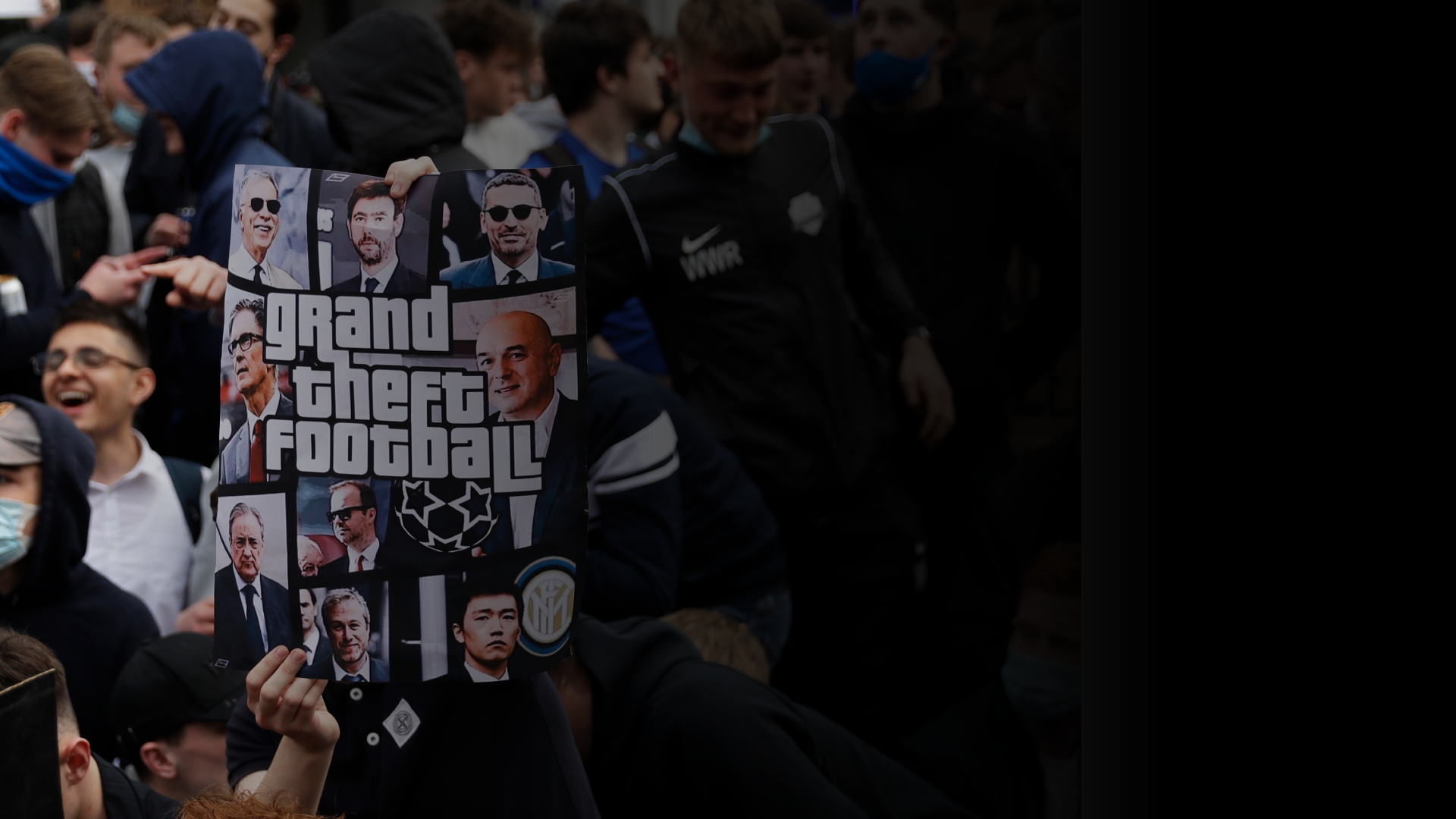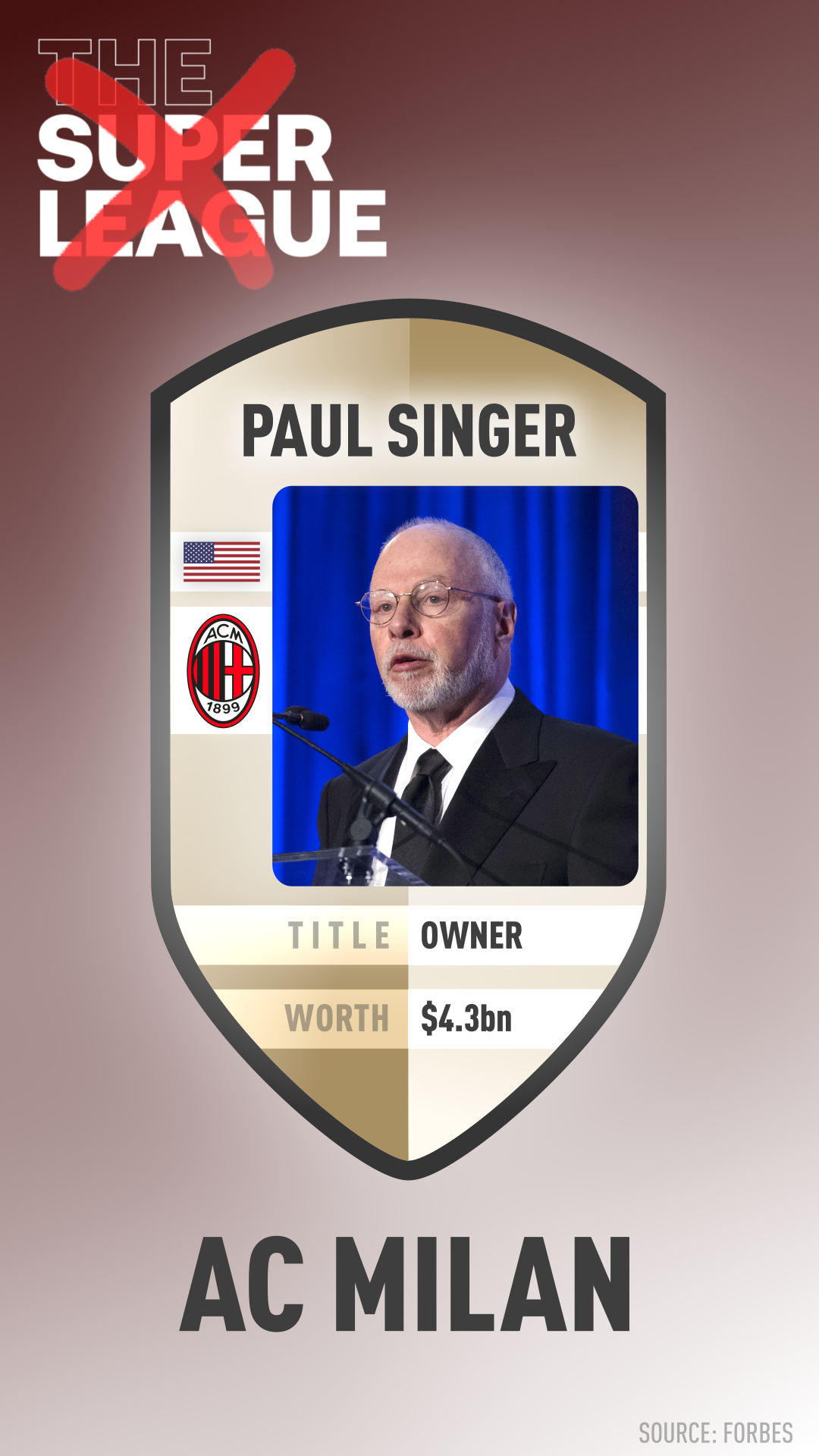 Paul Singer
Age: 76
Singer is the founder and joint CEO of Elliott Management, a hedge fund firm that manages $45 billion in assets. He has run the company since 1977, when he invested $1.3 million. The New Yorker is known as a combative deal-maker without fear of taking on big business and even government. He waged a 15-year campaign against the Argentinian government over its bonds, which resulted in a $2.6 billion payout to Elliott Management.
In July 2018, Singer and Elliott took over AC Milan, one of Europe's biggest and most successful clubs. Despite its golden history, the club has been in the doldrums for the past 10 years and was bought for less than expected.
Singer's son Gordon runs the Elliott group's European investments and was directly responsible for negotiating the purchase of the club with former player Paolo Maldini.
By Patrick Atack
Stan Kroenke
Age: 73
Missouri-born Kroenke married Walmart heiress Ann Walton in 1974 and later founded Kroenke Group in 1983, a property development firm.
He first became involved in Arsenal in 2007 before assuming majority control in 2011. Since becoming owner, Kroenke has become infamous among fans for his hands-off approach, earning him the nickname "Silent Stan."
As well as Arsenal he owns several U.S.-based sports teams, including the LA Rams NFL team, which he relocated from St Louis in 2016. He is also one of the biggest landowners in the U.S., possessing more than 800,000 acres of ranchland.
By Daniel Harries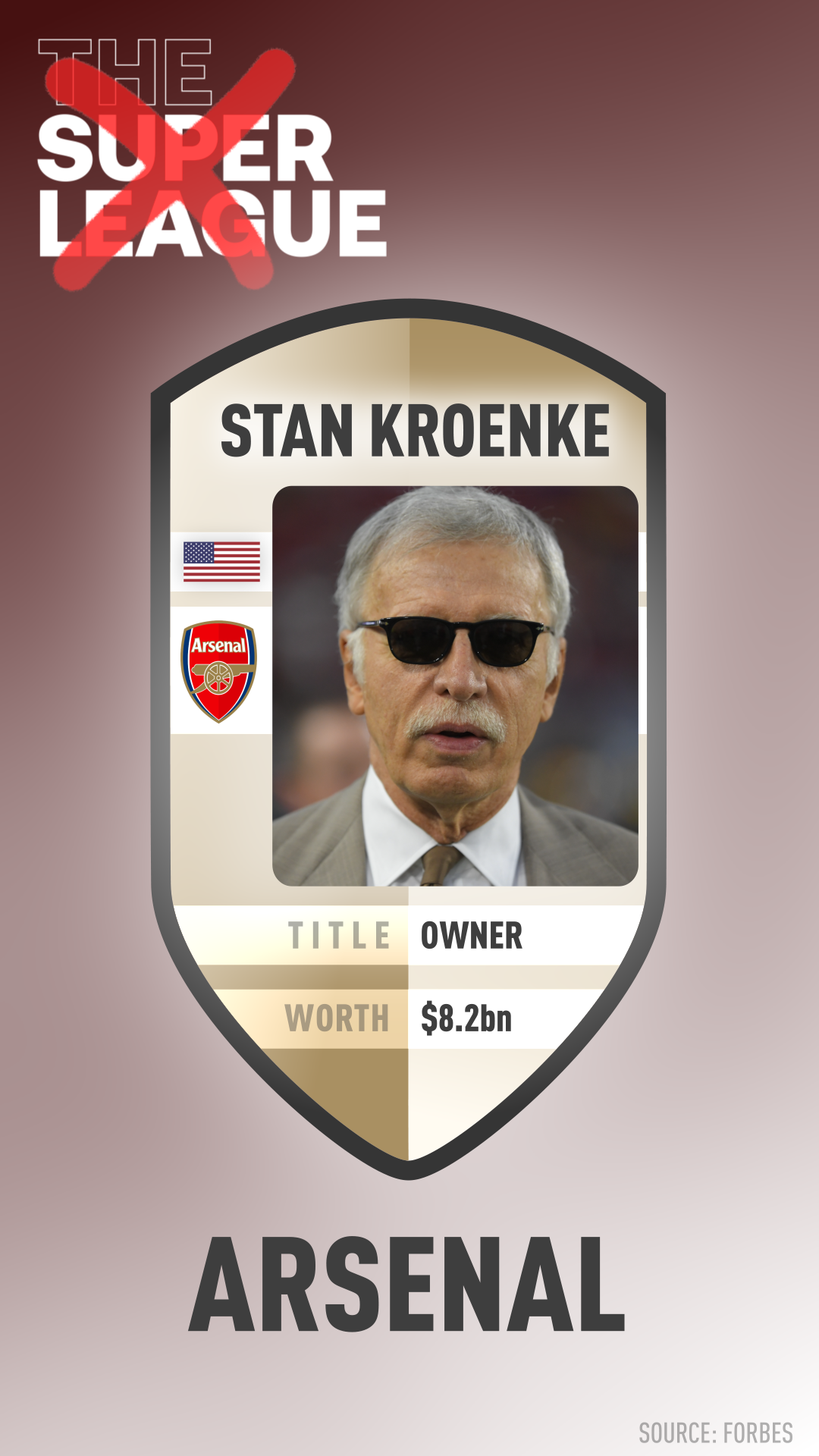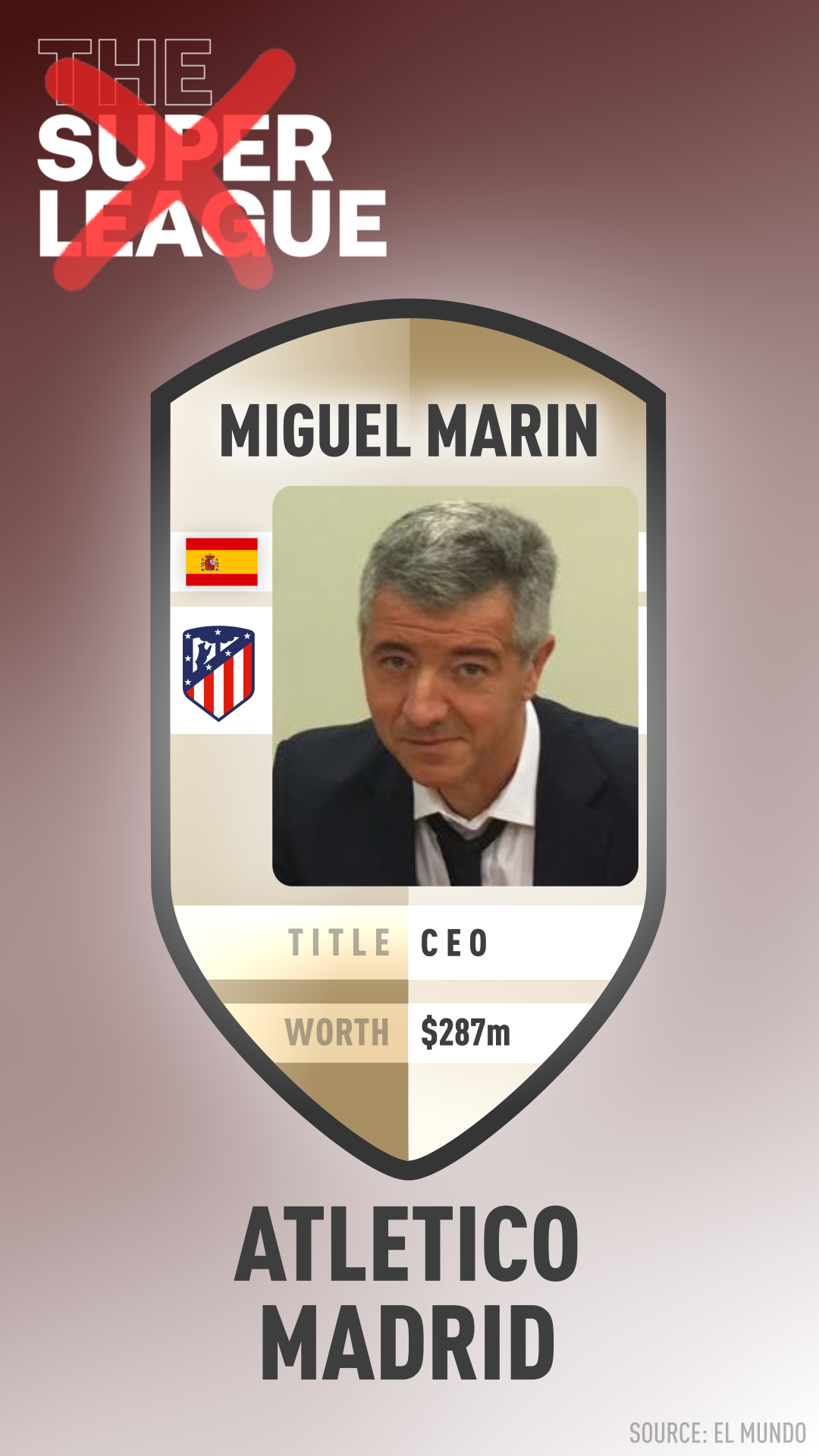 Miguel Angel Gil Marin
Age: 57
The son of disgraced former club president (and Marbella mayor) Jesus Gil, Marin has been Atletico Madrid's CEO since 1993. The majority shareholder of the La Liga club, with 51 percent of its shares, Marin is one of Spain's 200 richest people and lives in the exclusive La Finca in Pozuelo de Alarcón.
The 58-year-old graduated as a veterinarian before developing a business dedicated to horse and bull breeding. Marin was found guilty of defrauding the club in 2004 but avoided jail because of his clean criminal record.
Marin maintained the authorities had only continued to pursue him because of the furore over his father's illegal purchase of shares in the public limited company during the 1990s.
By Jim Drury
"The fan is the engine of our activity, all our work revolves around them, we work for them"

Miguel Angel Gil Marin speaking in January, 2021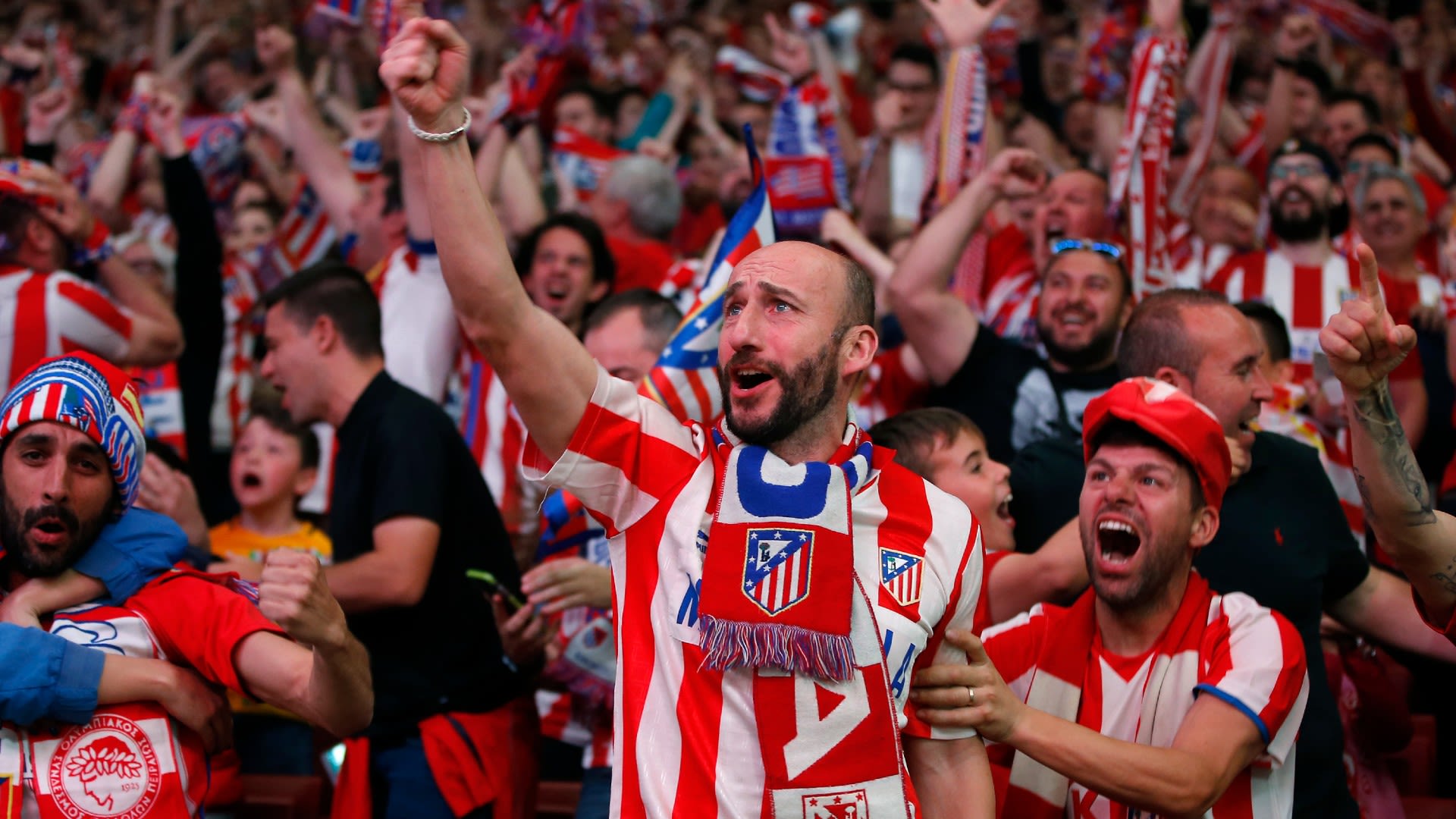 Atletico fans, known as Rojiblancos, took to social media to protest about the ESL. /Paul White/AP
Atletico fans, known as Rojiblancos, took to social media to protest about the ESL. /Paul White/AP
Joan Laporta
Age: 58
Joan Laporta is a lawyer and politician who oversaw the club's most successful trophy-winning spell during his first term as president, from 2003 to 2010. He only returned to the board in March 2021 after fans voted for him to lead the club out of the financial mess it has found itself in.
Barcelona is not owned or run by one wealthy individual, because shares in the club cannot be bought. Instead, it is run by members or socios. Laporta, who was raised in the city, is one of the 144,000 socios currently registered and eligible to run for president. His predecessor, Josep Maria Bartomeu, was arrested just before the election as part of a corruption investigation.
Laporta and his Real Madrid counterpart Florentino Perez are thought to be two of the men pushing hardest for the European Super League, as both clubs continue to struggle financially.
Laporta also owns a law firm called Laporta & Arbos, which has several important firms as clients.
By Aden-Jay Wood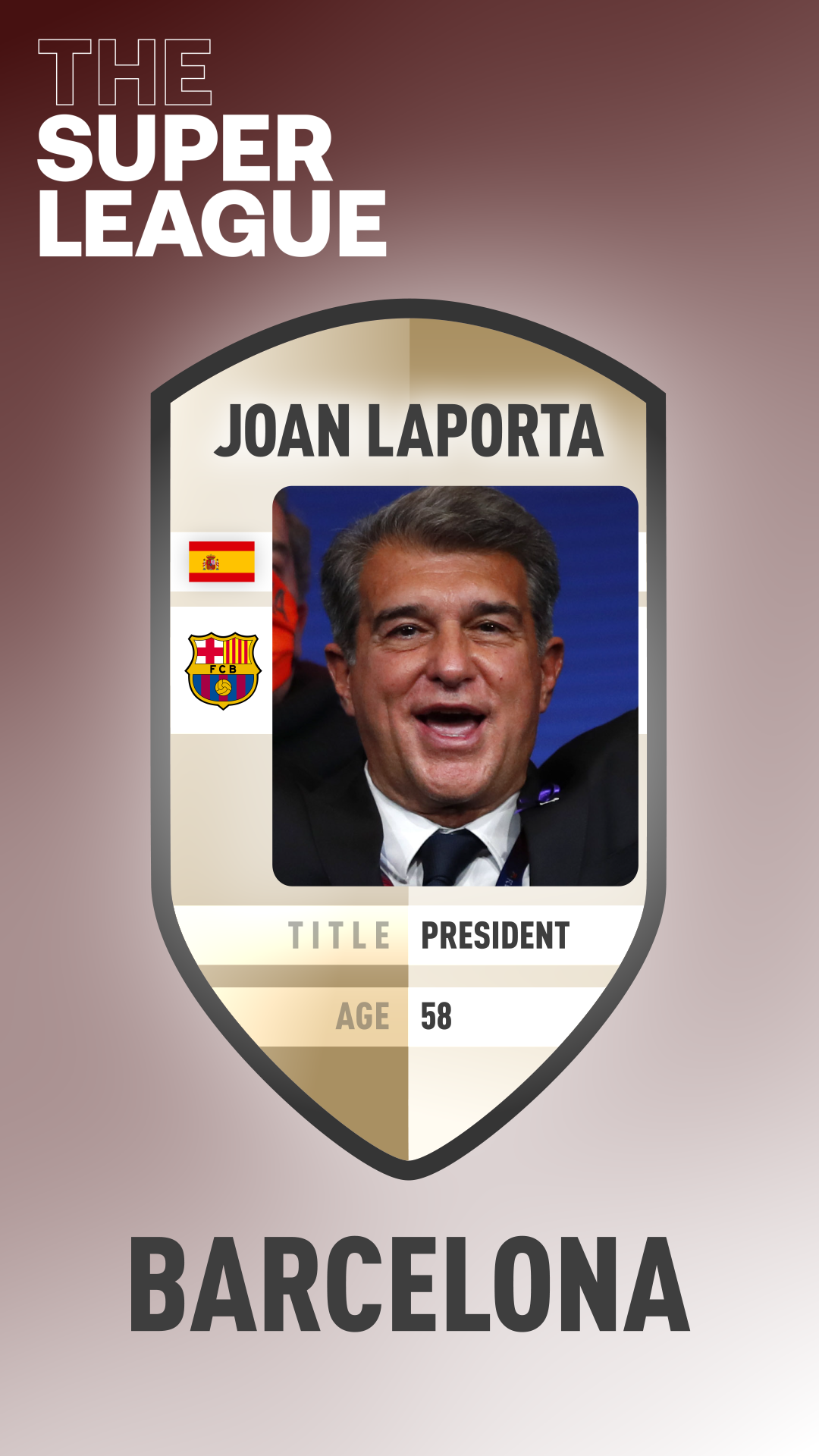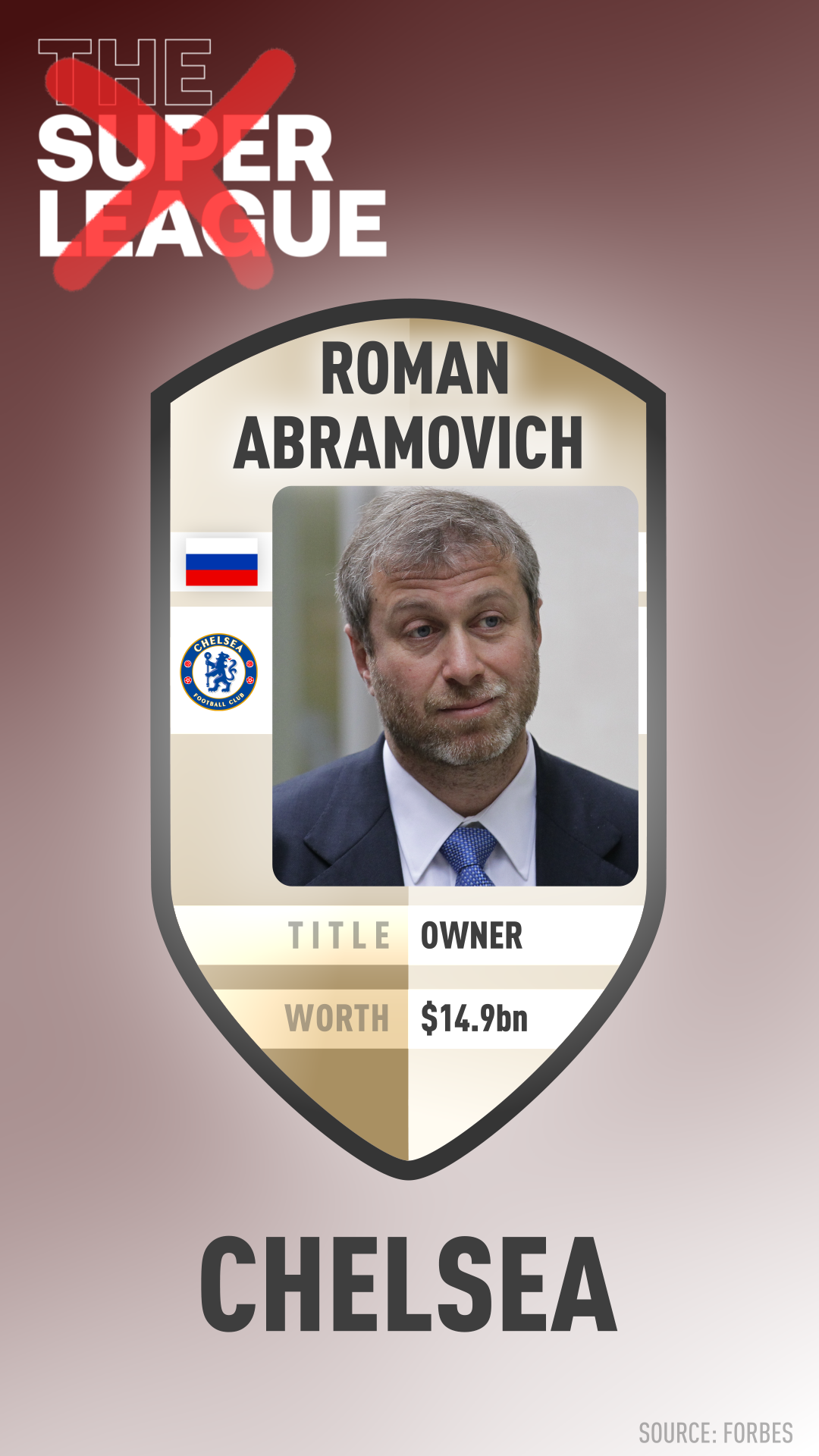 Roman Abramovich
Age: 54
Abramovich purchased Chelsea for a reported $233 million in 2003. The Russian tycoon and politician – he was a regional governor for eight years – oversaw a huge investment in the squad, bringing unprecedented success to the club.
He made his fortune in the years following the dissolution of the Soviet Union, eventually owning a significant stake in Russian gas company Gazprom, among other business interests.
His reported close ties to Russia's President Vladimir Putin have brought him into conflict with the UK authorities. His British visa was denied in 2018, after which plans to develop Chelsea's ground were scrapped.
By Daniel Harries
Andrea Agnelli
Age: 45
Andrea Agnelli is one of the key members of the ESL – his role as vice-president can still be seen on the Juventus website, despite nine of the 12 teams having withdrawn at the time of writing.
At 45 he is the youngest owner among the 12 and belongs to one of Italy's most powerful dynasties, the founders of the Fiat empire. The success of the car company allowed the Agnelli family to expand its investments into other sectors, including football when the family purchased Juventus in 1923.
Agnelli worked at Ferrari, Philip Morris and Banque Sanpaolo before moving to Juventus when a new holding company was set up in 2007. During his stewardship he has brought some of the biggest names in soccer to Turin, including five-time world player of the year Cristiano Ronaldo.
The club's wage structure has hindered it during the COVID-19 pandemic and with Italy being at the epicenter of the outbreak, Juventus has suffered the most of all the major clubs, with a 36 percent fall in matchday revenue.
Agnelli has held roles on the board of Serie A (Italy's top league) and, most importantly, the European Club Association, where he presented the views of Europe's teams to the governing body UEFA from 2015 to 2021.
By Giulia Carbonaro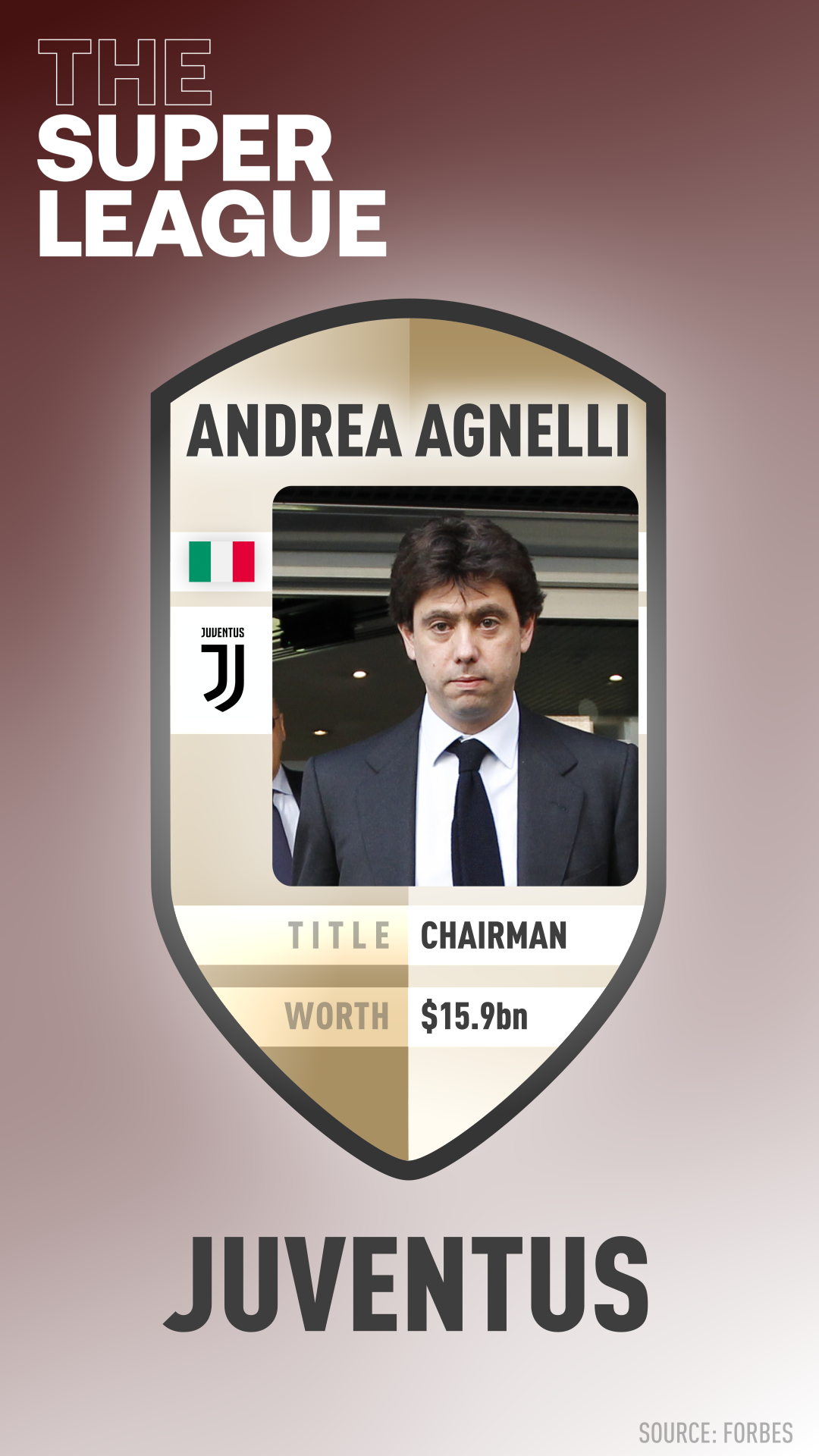 "We have come together at this critical moment, enabling European competition to be transformed, putting the game we love on a sustainable footing for the long-term future"
Agnelli's statement on the launch of the ESL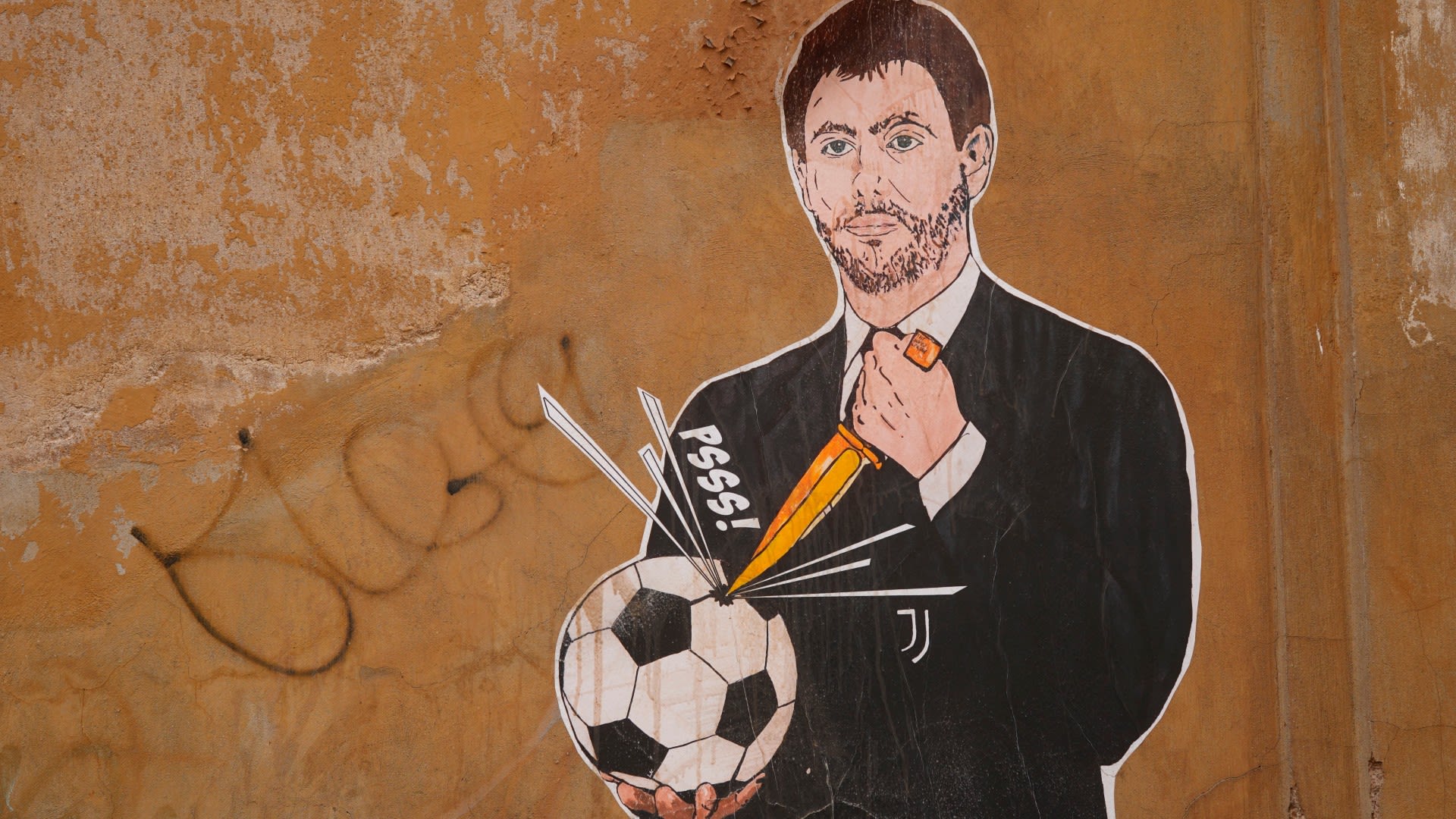 A mural depicting Agnelli appeared in Rome after the collapse of the ESL proposal. /Andrew Medichini/AP
A mural depicting Agnelli appeared in Rome after the collapse of the ESL proposal. /Andrew Medichini/AP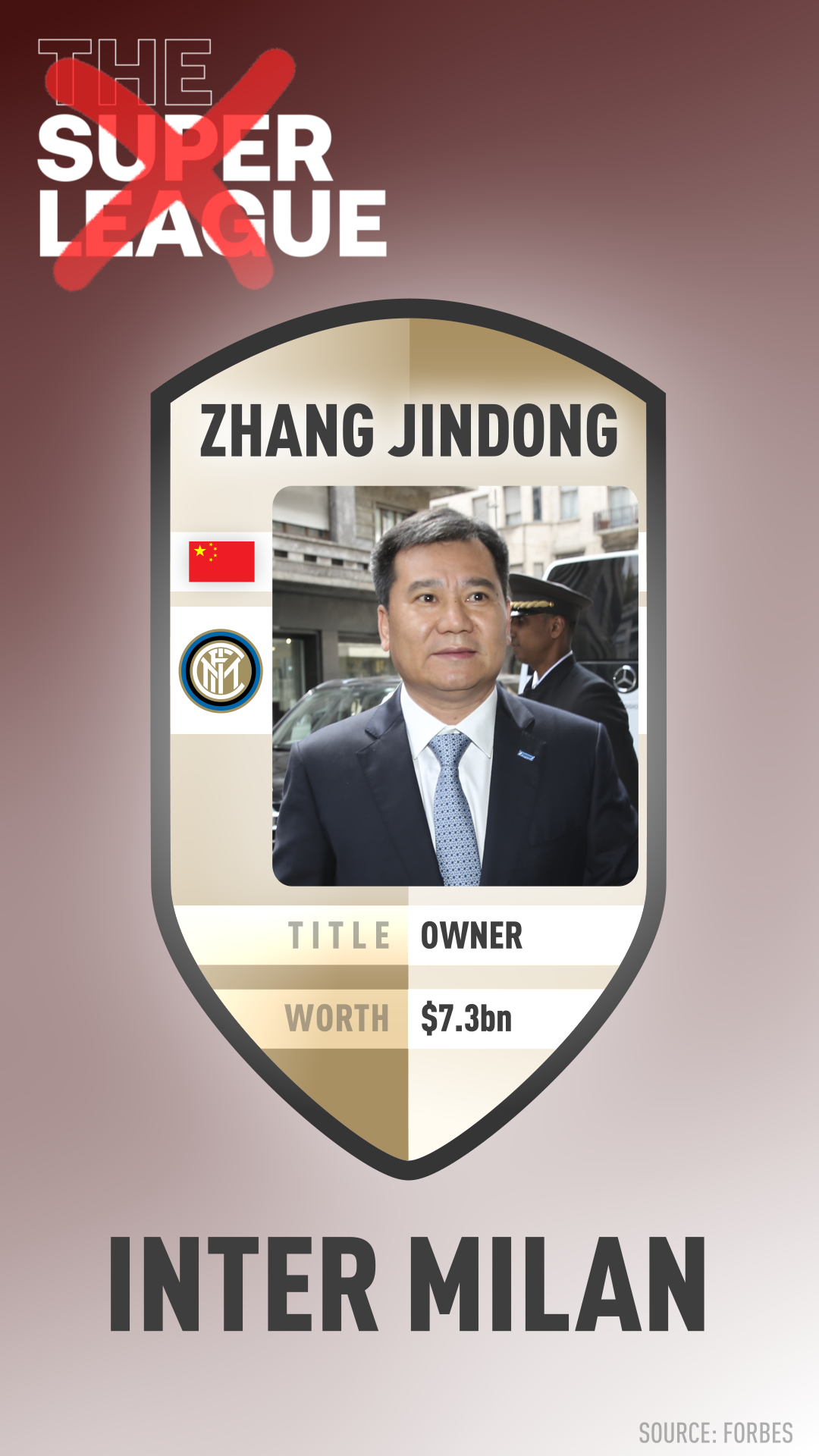 Zhang Jindong
Age: 58
Zhang Jindong is a self-made Chinese billionaire who began his career selling air conditioning units out of a small store in Nanjing and now runs one of China's largest electrical retailers. Revered in the Chinese business world for promoting staff from the shop floor to the boardroom, Zhang is described by members of Suning's inner circle as "prudent and cautious."
As his empire grew, Zhang diversified into property and finance before buying Inter Milan in 2016. Despite distancing himself from daily activities and installing his son Kangyang as chairman, the club's official website still refers to him as the chairman in birthday messages – a sign that his influence in key decisions is not forgotten.
Suning has a near-monopoly on sports rights in China, owning exclusive access to all of Europe's "Big Five" leagues in England, France, Germany, Italy and Spain, but Zhang's company faces a liquidity issue that has led to suggestions he may need to find a buyer, and soon.
By Simon Ormiston
John W Henry
Age: 71
From the moment John W Henry waltzed through the doors of London lawyers Slaughter & May to sign a deal to take over one of Europe's most famous soccer clubs, there were raised eyebrows at yet another American businessman investing in the sport.
But Henry brought with him a genuine sports management pedigree, having founded his company Fenway Sports Group to buy baseball team the Boston Red Sox in 2001. Prior to that, he was involved with the Miami Marlins and the New York Yankees and has tasted success on the field, winning six baseball World Series in his 31 years in the game.
He has transferred that winning formula to Liverpool's Anfield stadium, overseeing the club's first league title in 30 years and the Champions League in 2019. But despite promising to put the fans at the heart of his decision-making, this is not the first time he has fallen out with supporters.
In 2016, Henry had to perform another U-turn after a plan to hike Liverpool's matchday ticket prices to 77 pounds [$107] led to 10,000 fans walking out of a match in the 77th minute.
By Simon Ormiston
WATCH: Liverpool Owner John W Henry apologizes to fans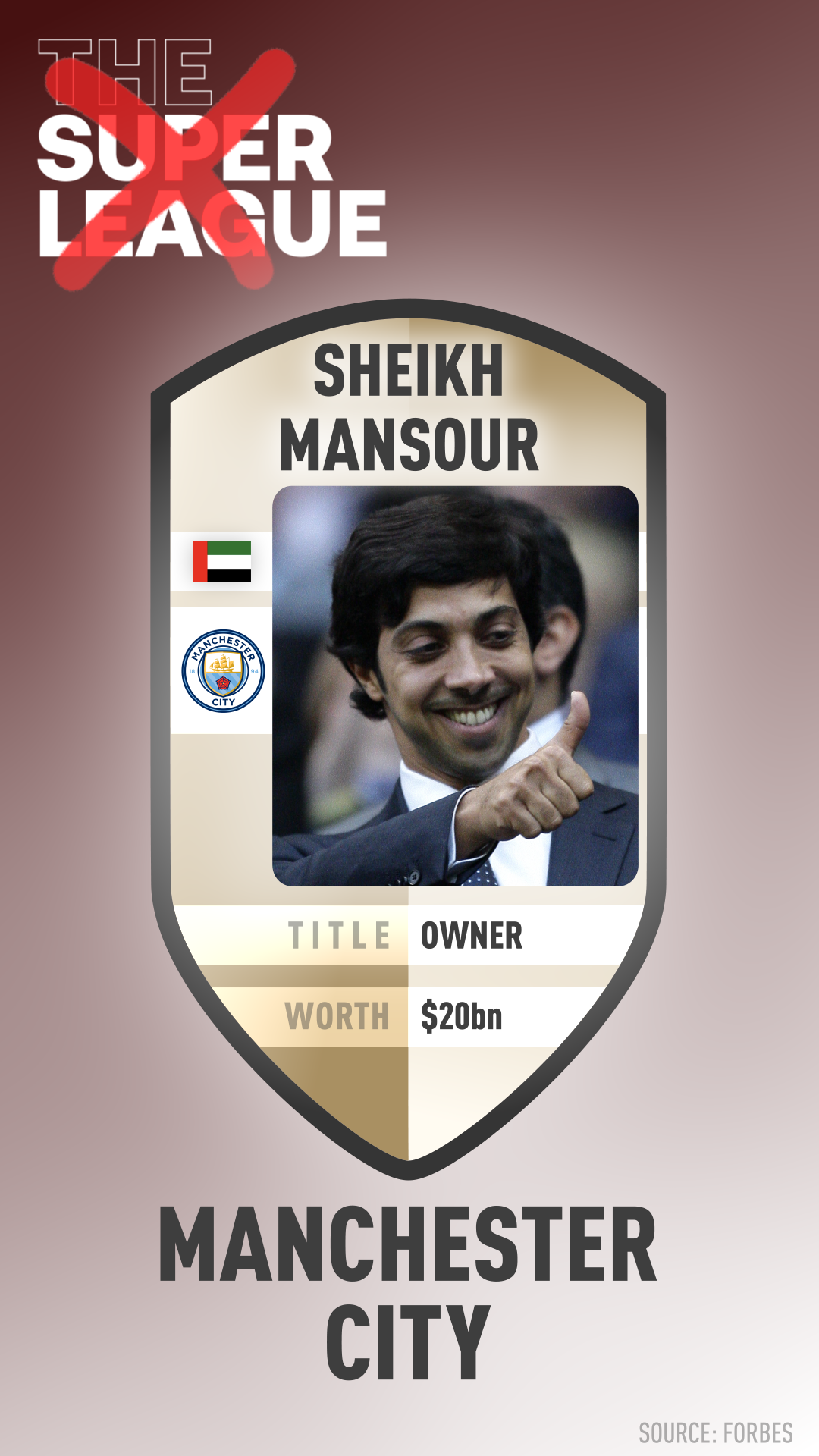 Sheikh Mansour bin Zayed Al Nahyan
Age: 50
Prepare to digest some eye-watering figures when assessing the wealth of Sheikh Mansour bin Zayed Al Nahyan, the richest of all the 12 owners.
Deputy Prime Minister of the United Arab Emirates and a member of the royal family, he has two main sources of income. He chairs the International Petroleum Investment Company, which controls $579 billion in assets, and he inherited a share of his family's $150 billion fortune amassed from the profits of oil production. One of the first members of the family to invest in his own name, he bought Manchester City in 2008 for $300 million in cash.
He founded the City Group a few years later and went on to purchase soccer teams in New York and Melbourne.
Financial penalties being mooted for the English club's role in the ESL won't scare the Sheikh. When his club faced a fine from European governing body UEFA of $11.69 million it was estimated it would take him 80 minutes to earn the money to pay it off.
By Simon Ormiston
Joel Glazer
Age: 50
Business is very much a family affair for the Glazers but they won't find many who are prepared to pull out a chair at the soccer family table for them right now.
Brothers Joel, Bryan and Avram have never enjoyed a cosy relationship with Manchester United's supporters after being met by protests on the day the Glazer family's takeover was completed in 2005. Their investment was greeted with such hostility that hundreds of supporters gave up their season tickets and formed a new club called FC United.
Joel, who is in charge of American football franchise the Tampa Bay Buccaneers, was quoted in Manchester United's club statement announcing the ESL plans. Under his supervision, the club was floated on the New York Stock Exchange, the company address was relocated to the Cayman Islands and he ensured the Glazers are entitled to the majority of the annual share dividends.
The most recent accounts show the club has a total debt of $660 million.
By Simon Ormiston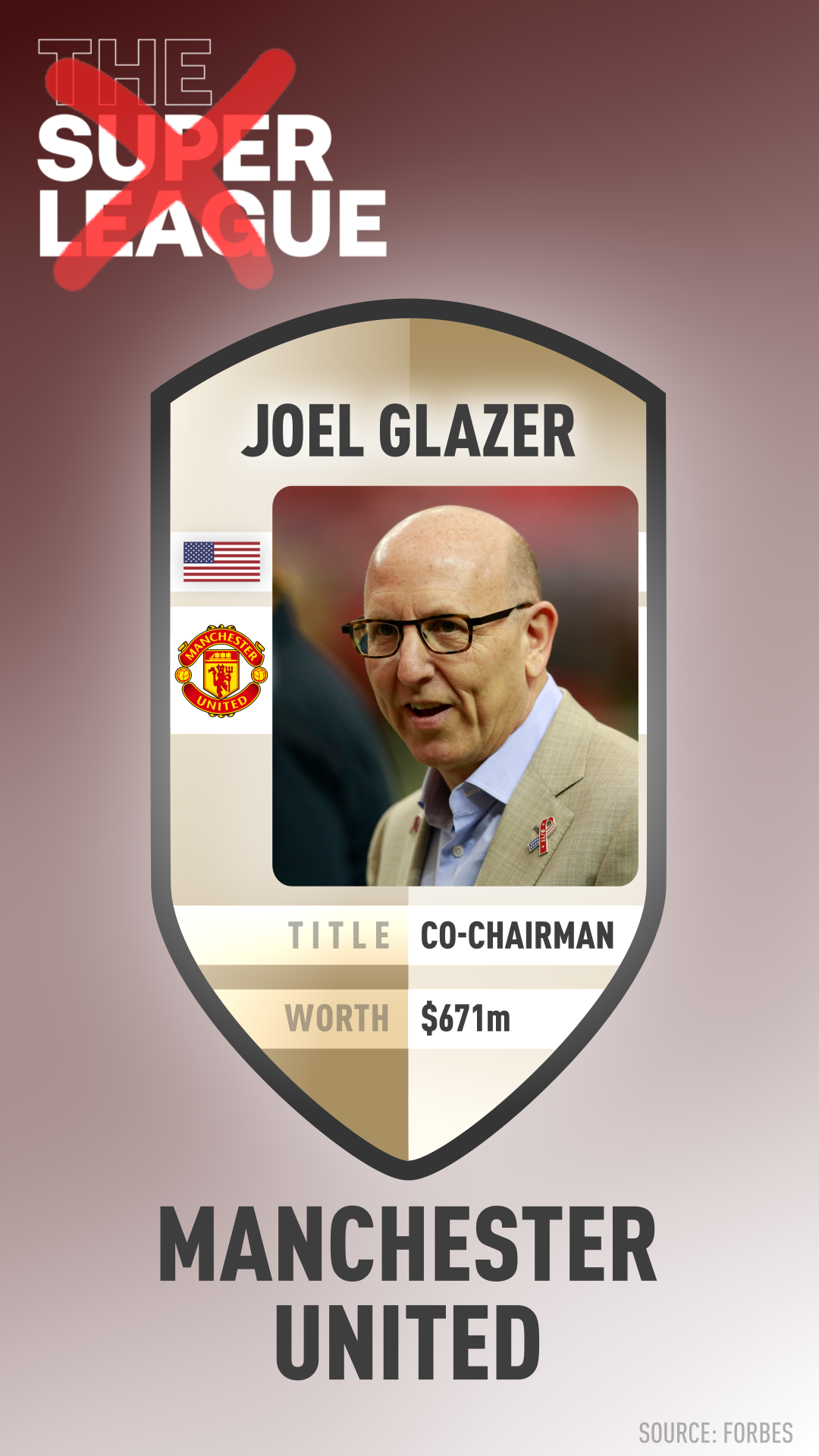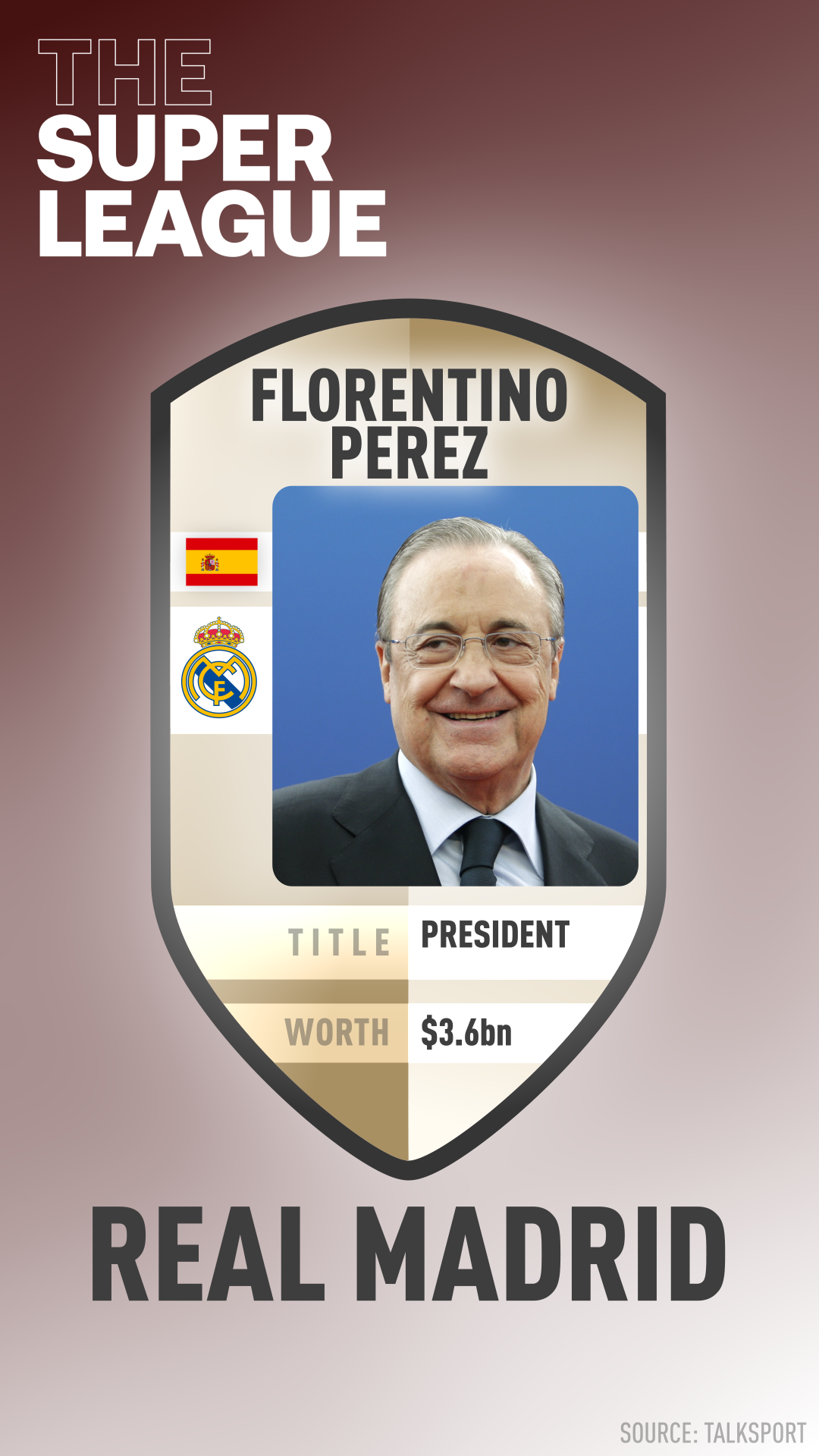 Florentino Perez
Age: 74
Just as at their fiercest rivals Barcelona, Real Madrid's club members, or socios, own the club. Current President Florentino Perez is one of these.
Perez is in his second tenure as president at Madrid, having been previously elected in 2000. He also owns Spain's largest construction company, Grupo ACS.
A few days ago, Perez was named the first ever chairman of the ESL and is one of its biggest advocates. Shortly after the announcement of the competition, Perez told Spanish TV channel El Chiringuito de Jugones that the league was required to "save football."
By Aden-Jay Wood
Joe Lewis
Age: 84
Born in London's East End, Lewis left school at 15 to help run his father's catering business. After selling the family business, he founded international private investment firm Tavistock Group in 1975. After diversifying into currency trading in the 1980s, Lewis moved to the Bahamas where he lives as a UK tax exile.
Among his investments are luxury club resorts, restaurants and hotels. His extensive art collection includes works by Picasso, Matisse, Freud and Bacon. Twice-married Lewis was recently reported to be seeking to sell Tottenham, which he purchased in 2001.
By Jim Drury