Trash or Treasure: CLOTHES
As fast fashion goes out of style, should the industry go green for a new image?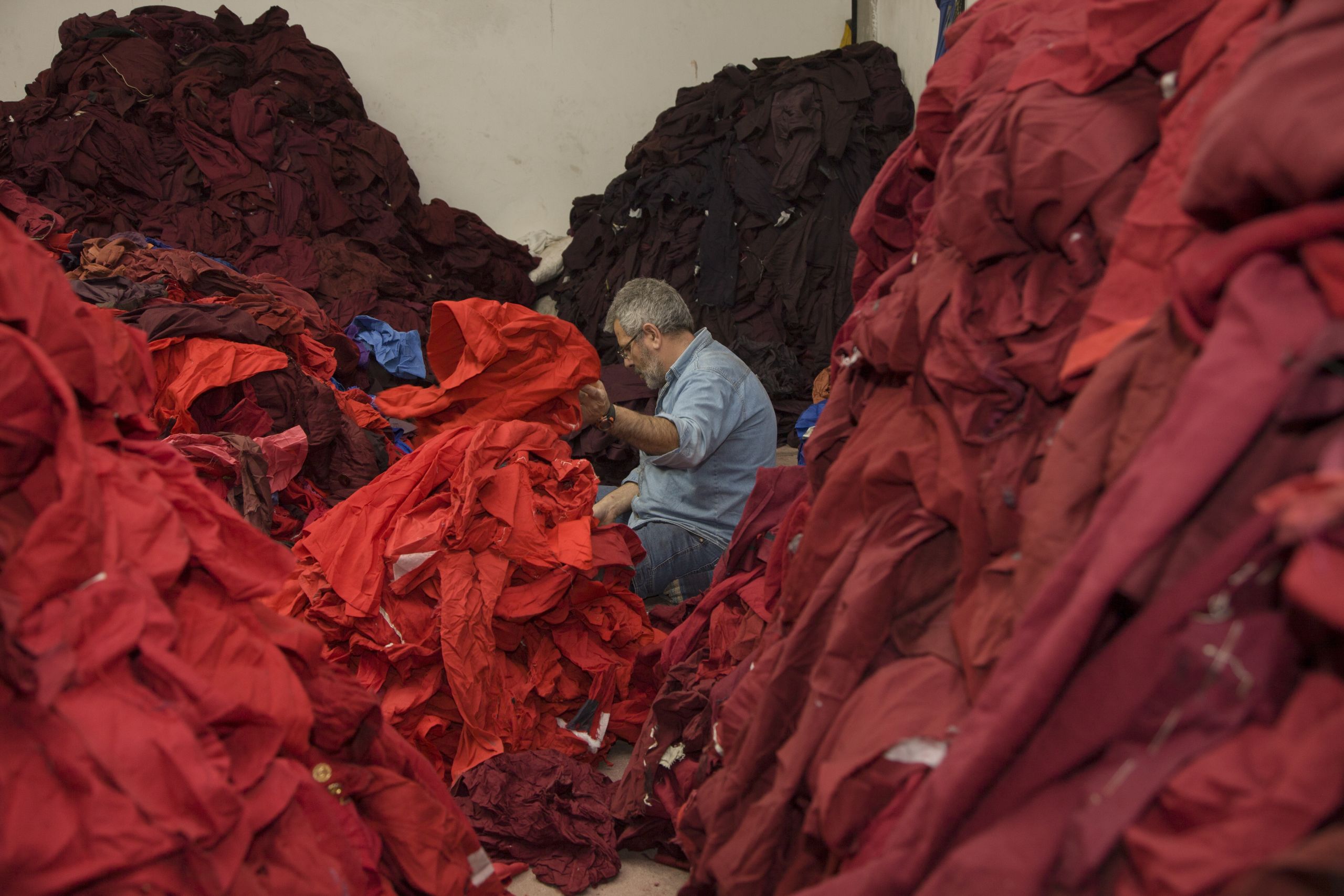 A worker in Prato, Italy separates textiles. /Marco Colombo
A worker in Prato, Italy separates textiles. /Marco Colombo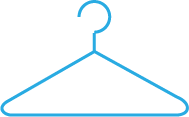 Clothes. We all wear them. That's billions of items being worn every day. That's billions of items being made each year. And it's also billions of items being thrown out.
The environmental impact is huge – in the UK alone, 300,000 tonnes of textile waste ends up being sent to landfill each year. And that is a small fraction of the worldwide figure. Less than one percent of material used to produce clothing is recycled into new clothing at the end of its life, according to a recent UK lawmakers' report. 
The social and environmental impact of the industry is clear to see.
"People don't say 'You shouldn't be buying so much clothing'," says Alan Wheeler, the director of the UK Textile Recycling Association. "And yet it has more of an impact on the climate change issues than flying does."
"We just can't carry on extracting these dwindling resources from our stressed natural world and dumping our waste on the lands and oceans and countries that we have already culturally depleted," says Carry Somers, founder of Fashion Revolution, the world's largest activist movement seeking reform of the fashion industry.
It's a growing problem – at a recent OECD event, she says, it was projected that garment production would increase by 81 percent by 2030.
"Environmental degradation is the product of centuries of colonialism and globalized exploitation."
"And we know that cutting down forests is already leading to habitat loss, and this makes the risk of disease transmission from wildlife to humans so much more likely, increasing the risk of future pandemics," added Somers.
It's not just current generations to blame, she says: There is a long history behind what we see in the world around us.
"A lot of this environmental degradation that we see around us is the product of centuries of colonialism and globalized exploitation and also that Western-focused worldview which sees human and environmental prosperity as being very isolated and disconnected," she says.
"We can see that when we look at clothing waste, at some of the organizations who are dumping our leftovers on countries in sub-Saharan Africa."
But there is good news – clothes are in the front line of efforts to get consumers to make better environmental and ethical choices.
Innovators around the world are coming up with ideas which are helping to change people's attitudes to what might previously have been considered trash.
Somers says the key goal is "to empower people, to make them realize that they have the power and the ability to create change… be curious.
"This is about what we do with our clothing. How can we share it and keep it in circulation and reuse it? How do we change our relationships within fashion supply chains and our relationship with the natural world as well, so that the rights of people and the rights of nature are holding more sway?"
"We have to change the conversations, we have to change the narrative, and we have to change the culture on which it thrives."
Somers says that social media can be a good way of getting people to think about the issues, but is also a platform that can fail to get across complex points, such as about the merits of different textiles.
But one area where it has helped is with the growth of the resale market in the UK – with some predicting that it may even be bigger than fast fashion within a decade.
FAST FASHION has grown since the 1980s as, thanks to globalization – and the availability of cheaper manufacturing – cheap versions of the latest fashion trends can quickly be on sale in high street stores, making fashionable affordable for everyone. The downsides are not just the exploitation of the workers producing the clothes, but the environmental impact of encouraging people to buy cheap clothes on the understanding that they will not have a long lifespan – adding to what's called the 'throwaway society.'
"We can actually keep the clothes within the UK, keep them within Europe, so we don't have to be shifting our second-hand clothing around the world," says Somers. "We have to change the conversations, we have to change the narrative, and we have to change the culture on which it thrives.
"Fashion brands, retailers, all companies have to take responsibility for what's happening in their supply chain wherever it's happening in the world, rather than the story we hear so often saying, 'Oh well, these aren't my employees, we don't own these, so we can't do anything about it' and just pushing that responsibility onto another country and another factory."
There also needs to be government action and there are some examples of initiatives in Europe, which she hopes others will follow. France has new stricter requirements for microfilters on new washing machines, while Sweden is proposing a tax on substances of concern in textiles.
The Swedish proposal may cover some of the chemical coatings that help make things like school uniforms 'easy-care' or 'non-iron.' They may make life easier - but they can also have an impact on the environment.
Somers' advice to people is to "use your voice and your power to create change," and she suggests that rather than signing a petition, a picture of you with one of their items makes brands "listen, because they know that you are a customer who does buy from that brand."
But she also says that governments must play a more active role in regulating the industry, protecting workers and the environment because "a lot of these brands are not going to act unless they are forced to do so by law."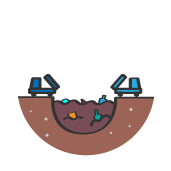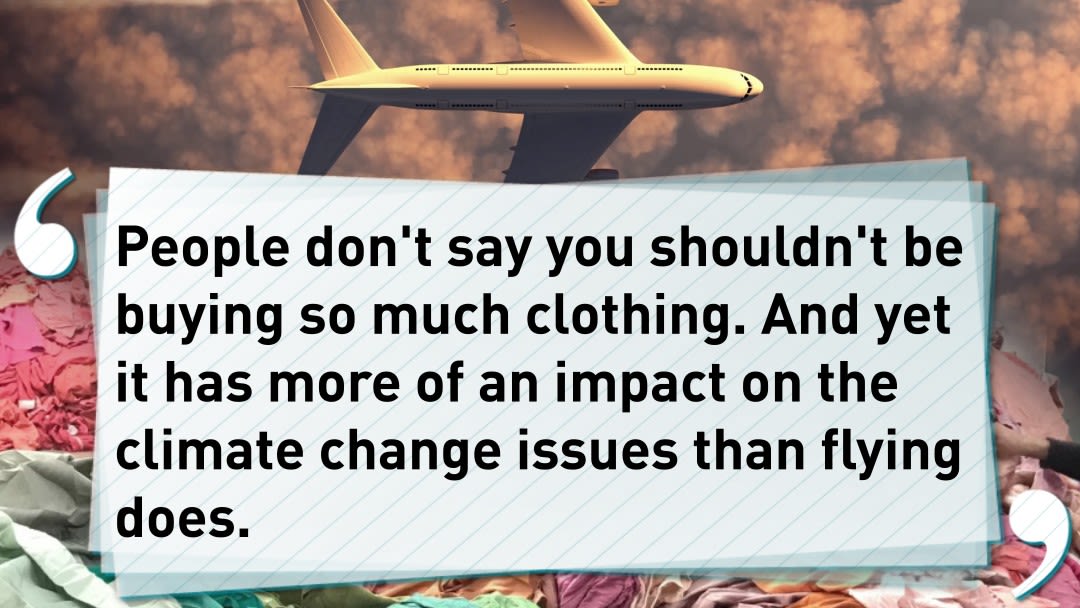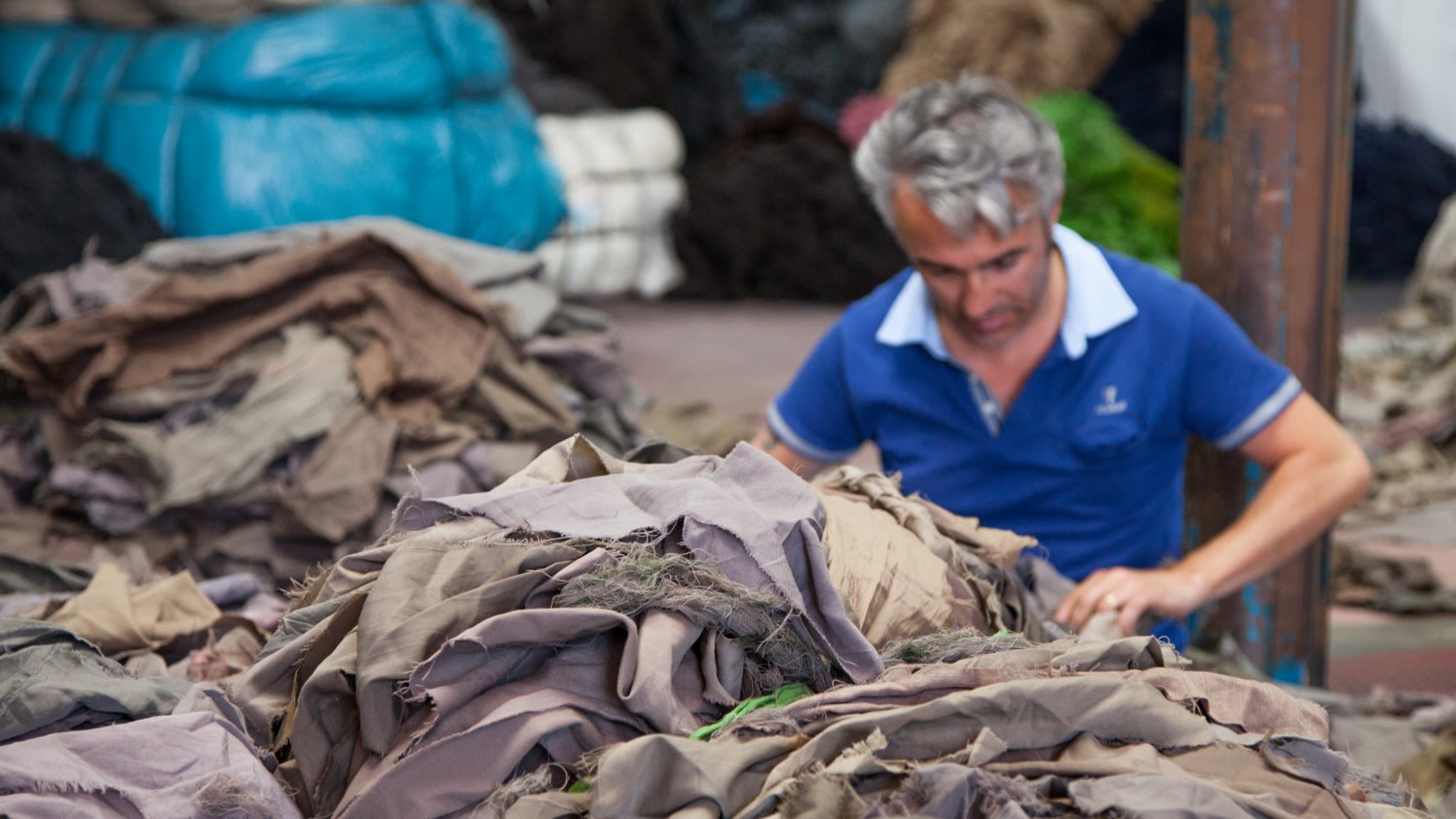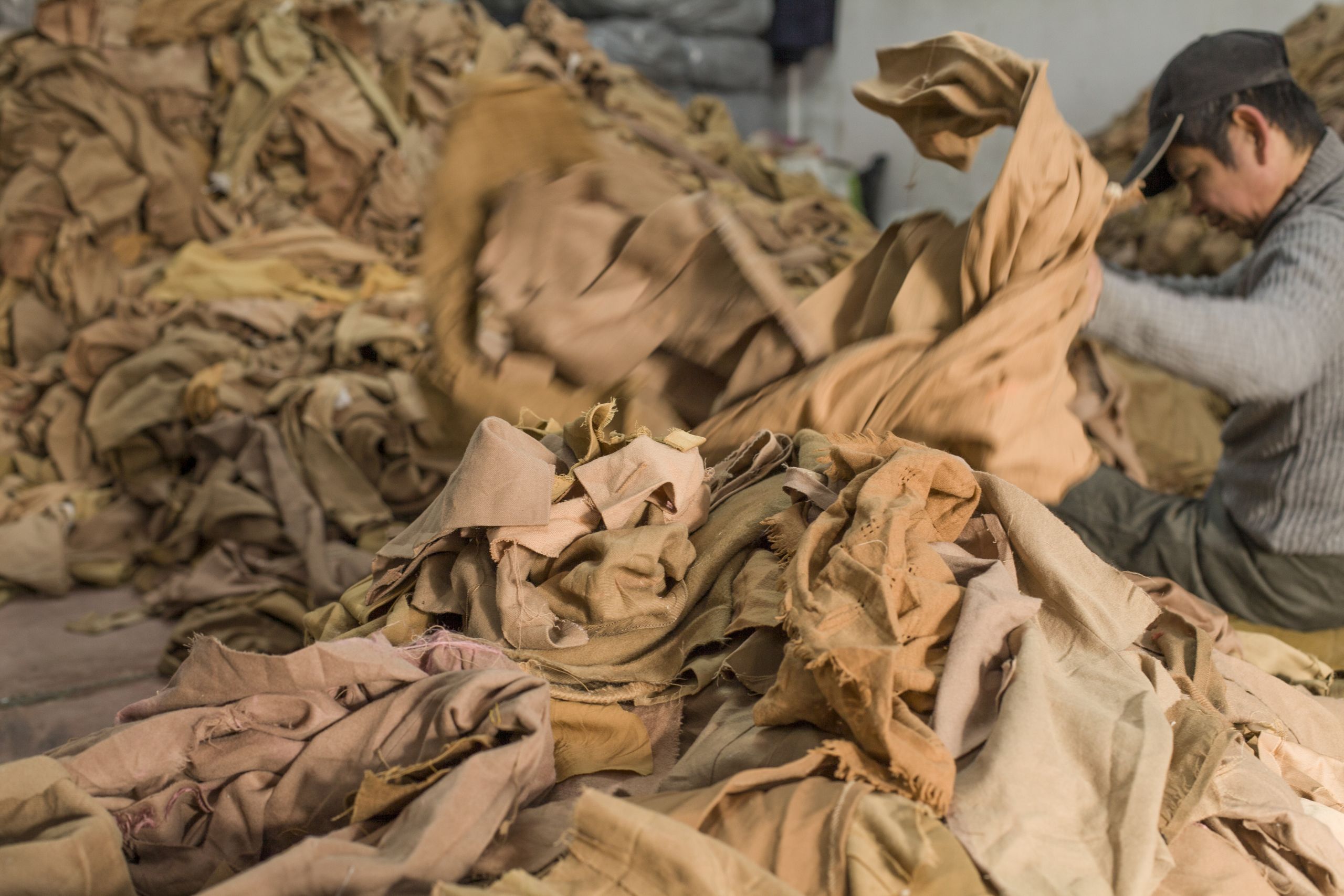 The city of Prato has a long history of textile reuse. /Marco Colombo
The city of Prato has a long history of textile reuse. /Marco Colombo
The Italian town of Prato in Tuscany is in the front line of recycling old clothes, and has been doing so for more than a century – it was an industry originally developed to get around the lack of sheep in the area.
There are now around 7,000 textile and fashion companies in the town and in total the district's enterprises recycled more than 140,000 tonnes of textiles alone in 2018 – or 15 percent of the world's total.
So how does it work? Well, unwanted clothes sent to Prato are sorted according to quality. Clothes that could be reused are sent to Eastern Europe or Africa to be sold in markets.
The clothing that can be recycled is sorted into different textiles and ripped into shreds, with zippers and buttons removed, ready for the rags to be turned into threads again. In total 97 percent of the clothing and textiles sent to the town are reused or recycled.
"Every year that goes by, the planet can offer less resources. It is vital to develop the circular economy."
Recycled wool is then delivered to another Prato factory where looms produce thousands of different coloured fabrics, 70 percent made using recycled yarn. It means that an unwanted jumper in a different European country can be given new life as a coat made of the finest wool.
A number of well-known high street brands, at the forefront of the development of fast fashion over recent decades, are among those who use the recycled materials from Prato.
Prato is a model for textile recycling, but worldwide, less than one percent of textiles are produced in this way.
"A circular economy doesn't only help humans, but also the planet," says Fabrizio Tesi of Comistra, which has been involved in the industry for more than a century. "Every year that goes by, the planet can offer less resources. It is vital to be able to develop the circular economy but can give resources back, limiting the exploitation of existing ones by saving water, electricity and carbon emissions."
In February this year, as part of a new drive to combat climate change, the European Commission announced a comprehensive EU strategy for textiles to encourage the industry to recycle fabric, as they do in Prato. 
If Europe is to achieve its target of net-zero emissions by 2050, transforming more rags into high fashion will be vital.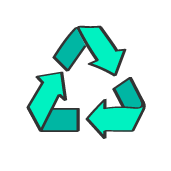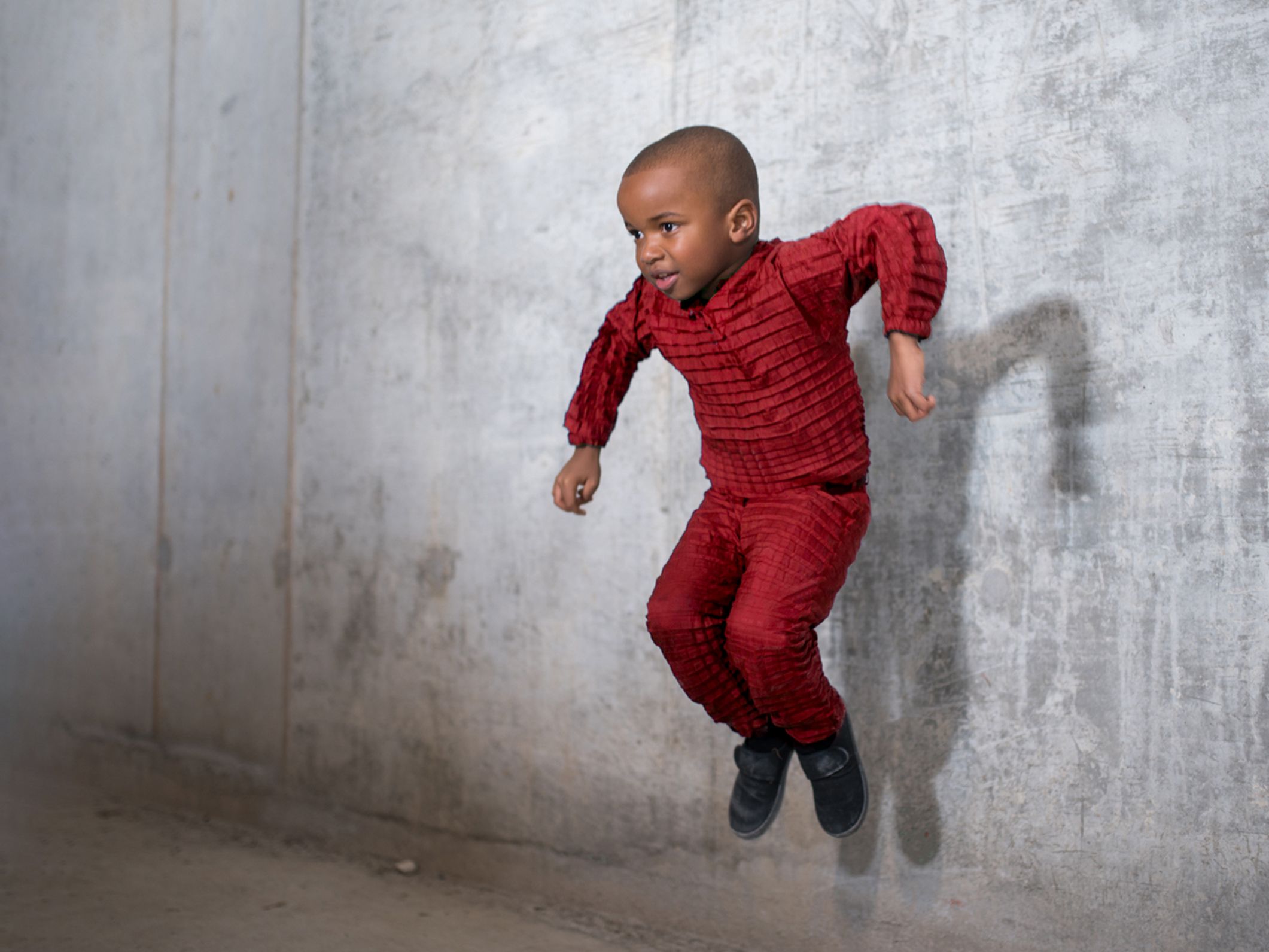 They grow so fast. /Petit Pli
They grow so fast. /Petit Pli
What if your clothes could grow with you? And what if they were made out of recycled plastic bottles, but they were still comfortable and fashionable?
Too good to believe? Well, the fast-growing award-winning UK start-up company Petit Pli has created just such a range, which the team hopes will cut down on waste at source.
Ryan Mario Yasin became an uncle just at the time he was tackling waste within the fashion industry and had realized that "extending the life and use of garments is the best way we can reach our carbon-neutral emission targets."
As he saw the speed at which babies grow out of clothes, he decided to use his background in origami and came up with a design for children's clothes that would expand and "grow" with the child. His first collection was designed to last from the age of nine months to four years, with the clothing able to change into seven separate sizes. 
But it wasn't just a case of maximizing use and minimizing waste from the garments. He also used recycled bottles to manufacture the textile used to make the clothes.
"The garment has an almost architectural form with a grid-like structure," he explains. "It expands in two directions so as you pull the leg out it actually becomes wider as it becomes longer – whereas typically a material, as you pull it out, becomes thinner: think of Lycra or a rubber band."
But what about the young people who are seeing their clothes grow with them? What do they think?
"They do believe it's magic, seeing this growing garment that they've never seen anything like before. And I think that also helps inspire them to be the sort of little astronauts that they can be."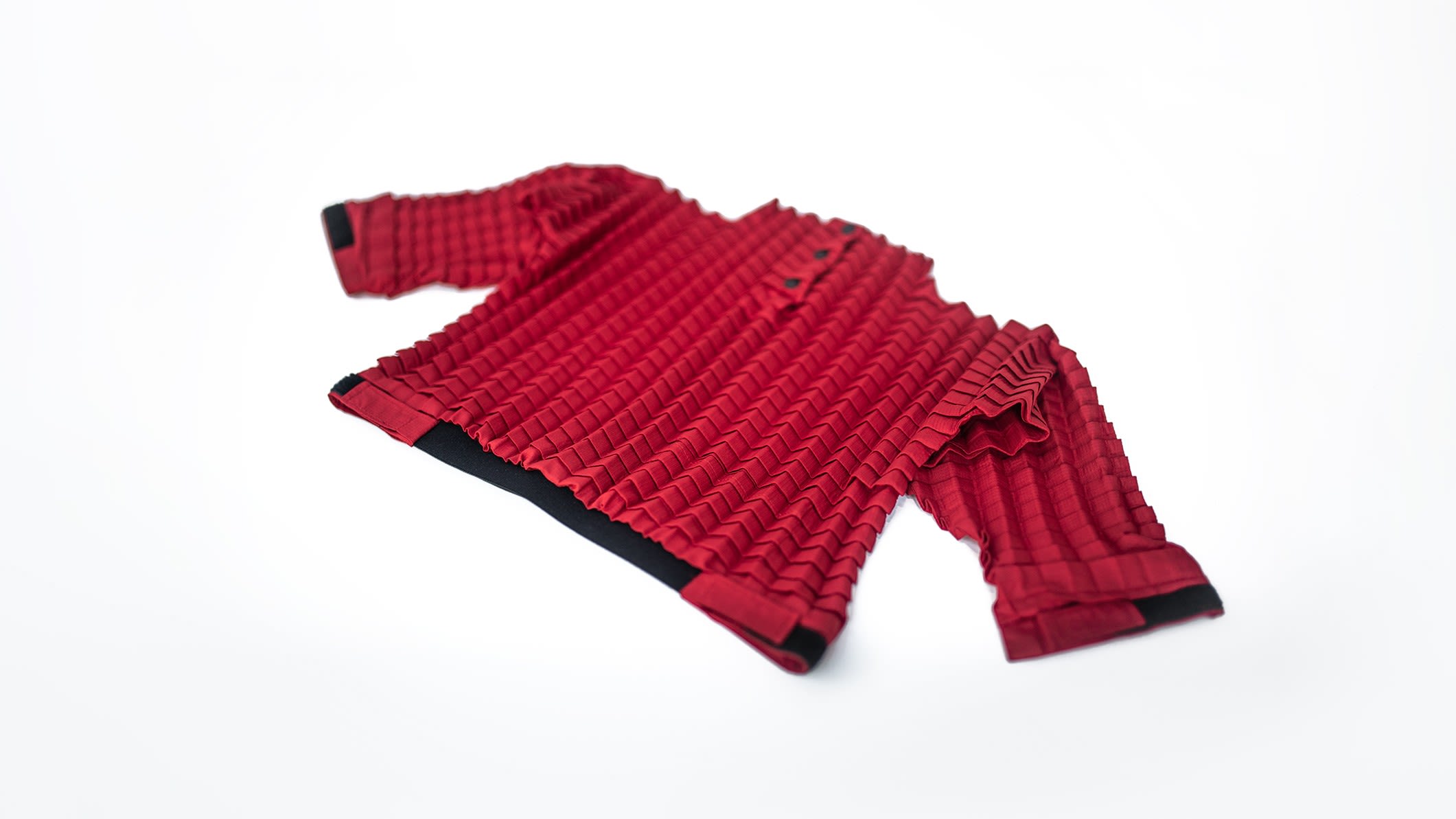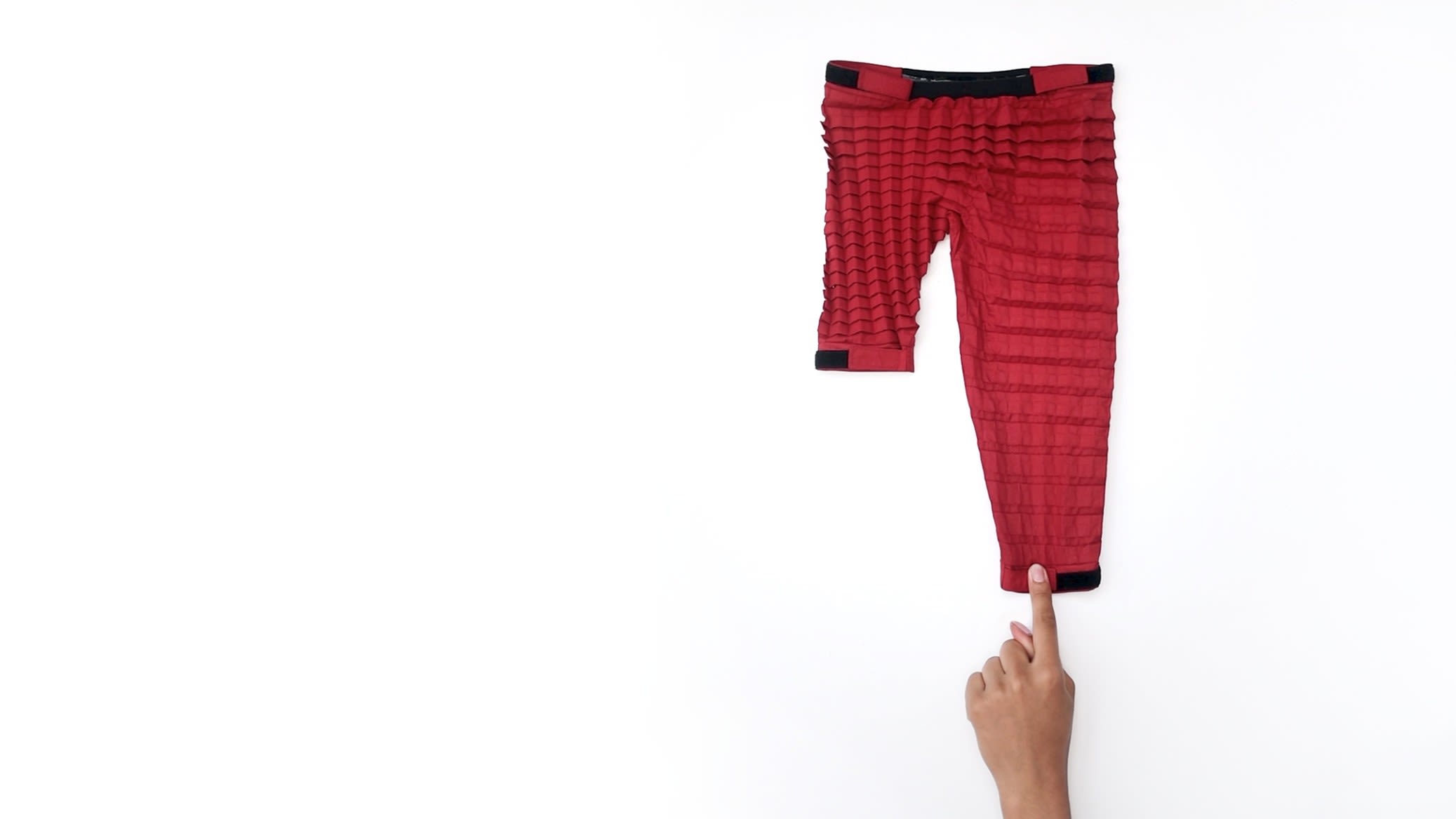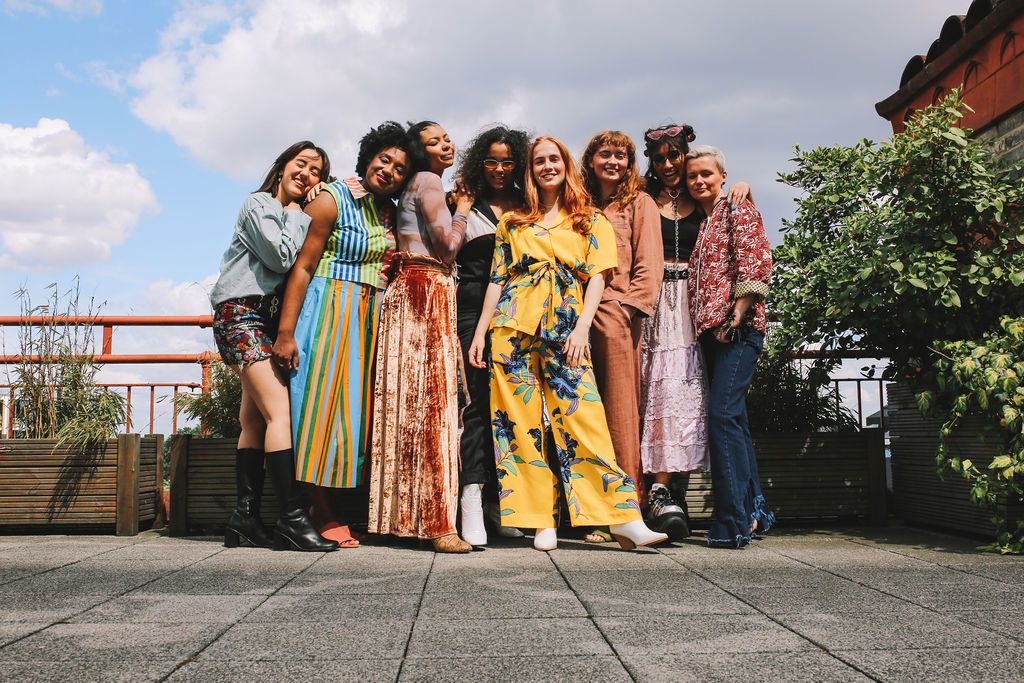 Something old is new again. /Nuw
Something old is new again. /Nuw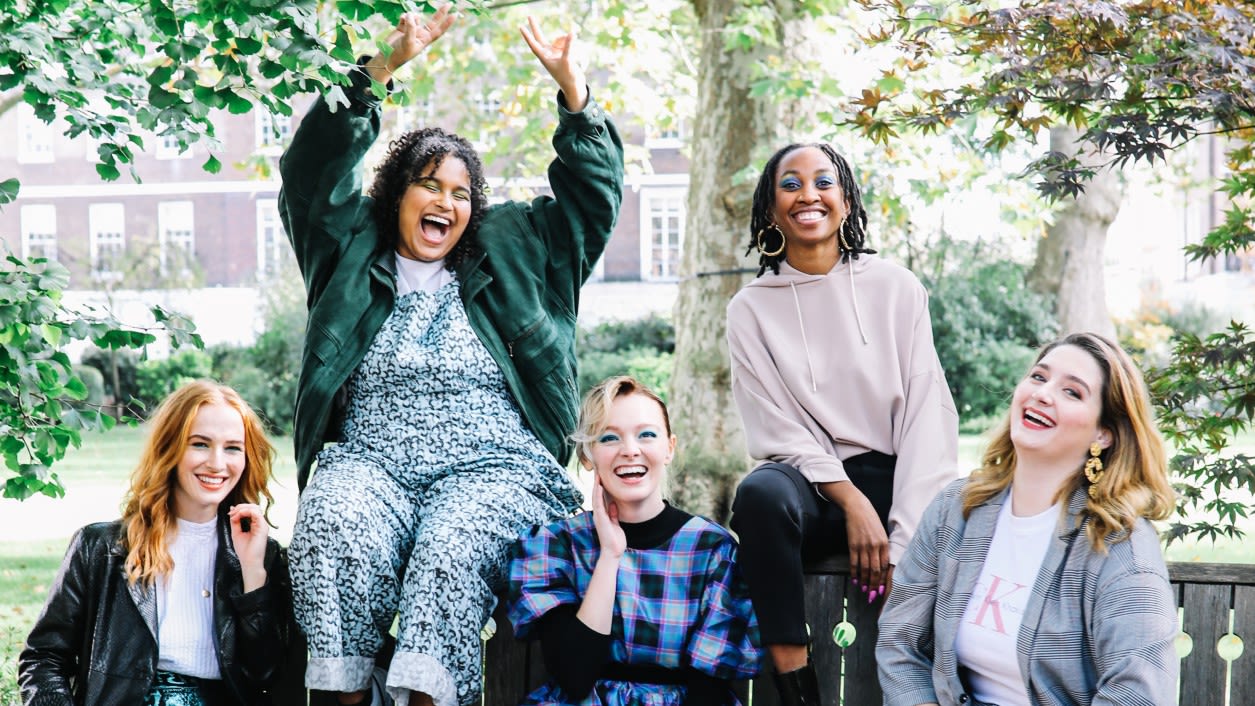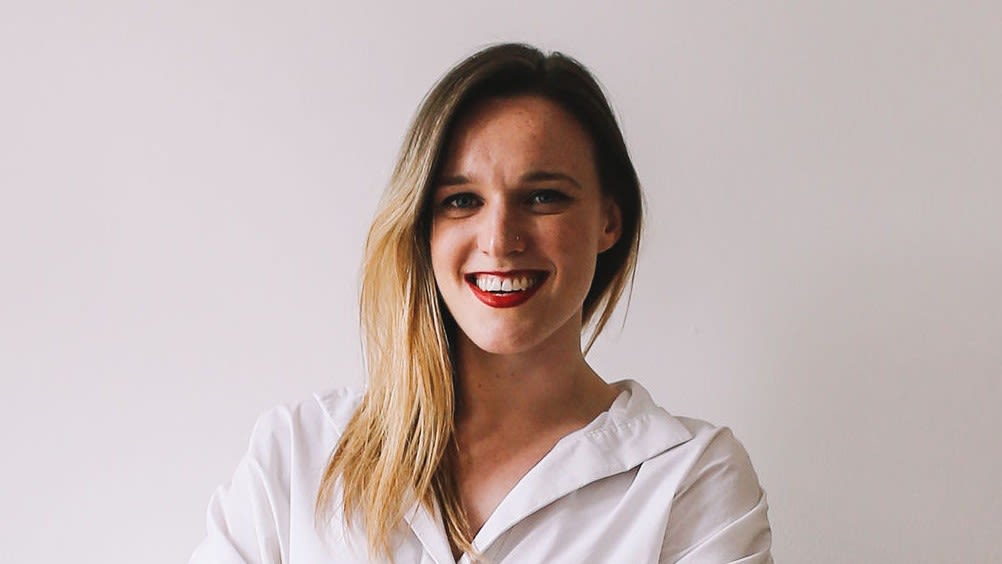 A different version of people power is increasingly ensuring that clothes which once might have been destined for the trash are now being treated as treasure. Technology is allowing people to swap their no-longer wanted clothes. 
In a way, it is adults catching up on what has been the situation with children for hundreds of years. Any child with older siblings knows all about clothes being handed down within families or on to friends. With children, of course, it is generally because they grow out of trousers, dresses and shirts before they wear them out.
So why can't it work for adults too? Why can't there be a longer life for that special dress you bought for a family wedding last year, or the outfit bought last month for a night out with friends?
Thanks to technology, attitudes do seem to be changing. There are a host of apps that people can use now to sell or swap those clothing items that they no longer want to wear.
"It was in some way solving a personal problem," says Aisling Byrne, "which was I really, really liked fashion and I didn't want to say goodbye to it because I had found out just how destructive it is."
The founder of Nuw, which calls itself 'the free fashion-swapping app,' Byrne says that she was prompted to take action when the Rana Plaza disaster happened in Bangladesh in 2013 and she saw the social and environmental impact of the fast fashion industry.
RANA PLAZA On April 24, 2013, the Rana Plaza building in Dhaka, Bangladesh, collapsed – killing 1,132 people and injuring 2,500 more. The building housed five garment factories. As the International Labour Organisation says, it "awoke the world to the poor labor conditions faced by workers… for some of the lowest wages of the world, millions of people, most of them girls and women, are exposed every day to unsafe work conditions with a high incidence of work-related accidents and deaths."
"As someone who absolutely loved fashion – I guess I was buying clothes I didn't need for nights out every single week – I had a realization of the real social and environmental cost behind the fast fashion industry," she admits.
But Byrne, then a student, discovered that making the ethical choice could prove costly – "necessarily so, because it really does cost a lot of money for clothes to be made in the right conditions and paying workers fairly.
"It was about giving my clothes new life, as much as finding clothes that felt new to me."
"But I was really into fast fashion and I had a lot of clothes that sat in my wardrobe. And so for me it was about giving those clothes new life as much as finding clothes that felt new to me and that I could wear and enjoy.
"And so the idea was very simple. It was just replicating that idea of sharing with friends and family and bringing that to a wider community, using technology."
Just because you feel "you're done with" the clothes in your wardrobe doesn't mean they have to be at "the end of their life," is how she puts it.
"They have a really long life to live. We want to be wearing them way more than just once, way more than just seven times, hopefully more than 30 times. And if we can't do that as an individual, we can do that as a collective."
IN NUMBERS For the recent Fashion Revolution swap night, Nuw said it saved the equivalent of 655 kg of waste, 9,000 kg of CO2 and 904,000 liters of water.
With Nuw, people can choose to swap – temporarily or permanently – items on the platform. There is a system of tokens, so it's not a case of having to do a direct swap with someone. And there is no price negotiation.
"We deliberately made it very simple, because for us it's really important that it's all about finding a new home for the clothes that really deserve to have a more full life," says Byrne.
"It's really encouraging to see what can be achieved when so many like-minded people are brought together."
It seems that, as with any good business idea, timing has proved crucial. The app launched in January 2020. Within weeks the pandemic struck, but for Nuw, this was not the disaster it turned out to be for many businesses. Indeed, swaps have increased by 2,000 percent over the past six months.
"During lockdown, so many outlets closed for us, and that includes swap shops and charity shops and flea markets and all those wonderful community experiences that we love," says Byrne. "And so Nuw, I guess, could bring this online at a time that we really needed to enjoy fashion more than ever.
"It's really encouraging to see what can be achieved when so many like-minded people are brought together – the right technology underpins that as well."
Byrne has big plans for the future – the aim is to have 12 million users on the platform over the next five years with expansion from the UK and Ireland into northern Europe.
Nuw's user base skews towards those aged 16 to 35 who have grown up with clothes-selling and swapping apps like Depop and upcycling trends. So the challenge is to win over the 30 to 40-year-olds who grew up in the glory days of fast fashion – glory days that led to disaster.
Where your clothes wash up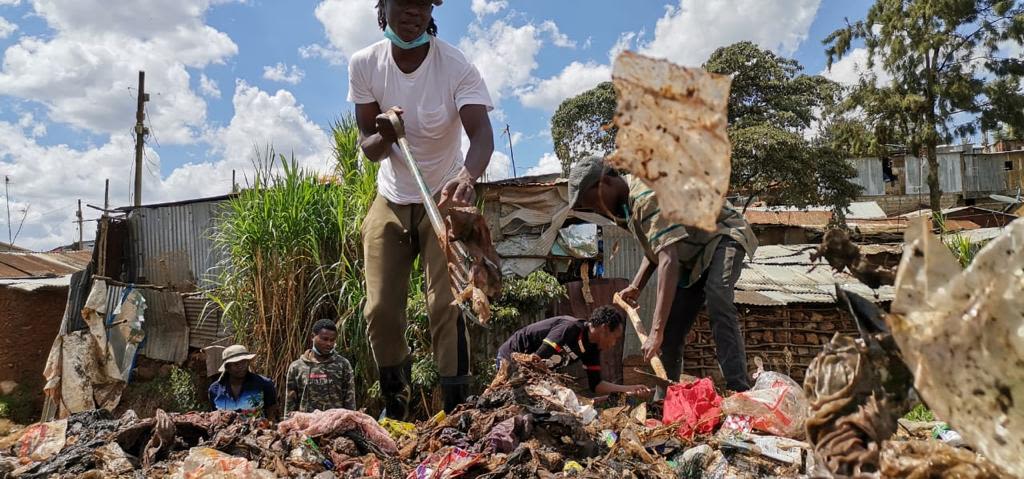 ACT (Africa Collect textiles)
ACT (Africa Collect textiles)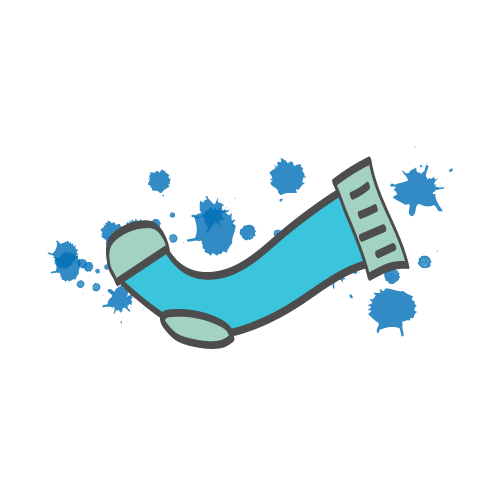 There are some long-established recycling systems in place across Europe. Municipal governments have established centers where people can drop off their old clothes and there are numerous charity shops and collection organizations aiming to give unwanted clothes and shoes a new home and save them from ending up in rubbish dumps.
But what happens to your clothes? Every year, Kenya imports more than 100,000 tonnes of second-hand clothes or mitumba from all around the world. Some of the good quality clothes get sold and reused, but an estimated 35,000 tonnes are thrown away and end up in overflowing landfill sites like Dandora, Africa's biggest, in eastern Nairobi.
With around 50 percent of Nairobi's population living below the poverty line and surviving on around $1 a day, buying second-hand clothing can be the only affordable option, with many people dependent on selling second-hand clothes. But there has been a growing problem of rejected garments ending up in the river, leading to calls for a ban on the import of second-hand clothes, as Rwanda has implemented.
"The river is really, really suffering and the fishes are no more," says Gisore Nyabuti, chairman of the campaign group Slums Going Green and Clean. "When we were kids, we used to swim in it. But at the moment you can't even dare tell your kid to swim."
Nyabuti and other members of the group run river clean-ups and education campaigns, encouraging locals to think about the environmental consequences of old clothes being discarded in the river. But many people are too worried about where the next meal is coming from to be able to make environmental issues a priority.
At the Toi market, traders say that second-hand clothes can often be better quality, as well as being cheaper than new clothes – but as one said: "When they stop them from being imported, people won't be having job opportunities."
The problem is that along with good quality items, other countries are sending clothing trash here as well – clothing that is too damaged to be worn.
"A lot of the second-hand clothes coming here are cast-offs – clothes we can't even wear."
Wagura Kamwana, creative director of a Nairobi fabric shop called The Textile Loft, said her mother was a mitumba seller in the 1990s, but she believes the only way forward for the local economy and for the planet is to invest in the local manufacturing industry and build more textile mills.
"A lot of the second-hand clothes coming here are cast-offs – you might find a nice pair of jeans and a shirt, but half of the other stuff, it's clothes that we can't even wear," she says. "What happens? It ends up in the landfill. We don't have recycling capacity, so it ends up getting tossed all over the place."
But there are some signs of hope. An increasing number of organizations and businesses are trying to come up with innovative sustainable clothing solutions. 
"People in the fashion industry are becoming more aware, excited – empowered."
One of them is Africa Collect Textiles, which reuses and recycles clothing and footwear. The aim of this circularity-seeking social enterprise is to recycle more than 50 percent of all textile waste in Africa.
"People are becoming more aware in the fashion industry," says co-founder Alex Musembi. "People are now excited, people are now becoming empowered and we need to do a lot of social media education so that the community can be able to understand when we mean by recycling and the importance of reusing."
Musembi says donation containers allow people to give clothes anonymously; there is cultural stigma about giving clothes to family and friends, with some believing that if the recipient loses their job or gets sick, it's because of the textiles passed to them.
"So people decide to not give their textiles to other people," he says. "And that also explains the reason why people have a lot of textile in the wardrobe and they need to declutter."
Could Kenya follow Rwanda's lead and ban the import of second-hand clothes? Job Wanjohi from the Kenya Association of Manufacturers says such a move would be impractical: "A ban is not likely to work – it's even likely to cause some economic and security crisis in the country because of the numbers that are employed there."
Musembi agrees that a ban is not the solution. Instead, he says, awareness is key so that people become more conscious of the impact on the planet.
As the environmental crusader and singer Larry Dwayne says: "We are all together on this earth, we are one big family. And what we have in common is mother earth. I would just love to encourage each and every youth around the world to play their part in terms of conservation. I will just urge them to not tire and just encourage each and everyone to be at the forefront to fight for ecological justice."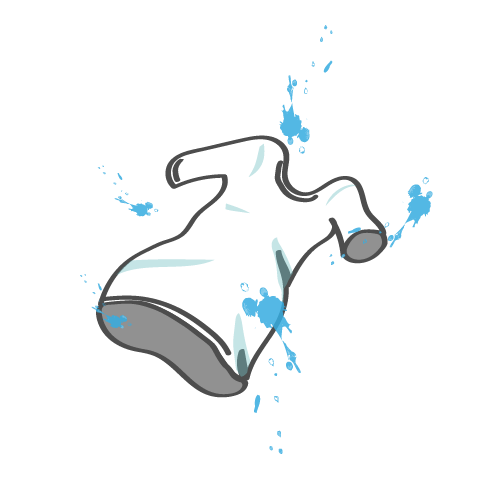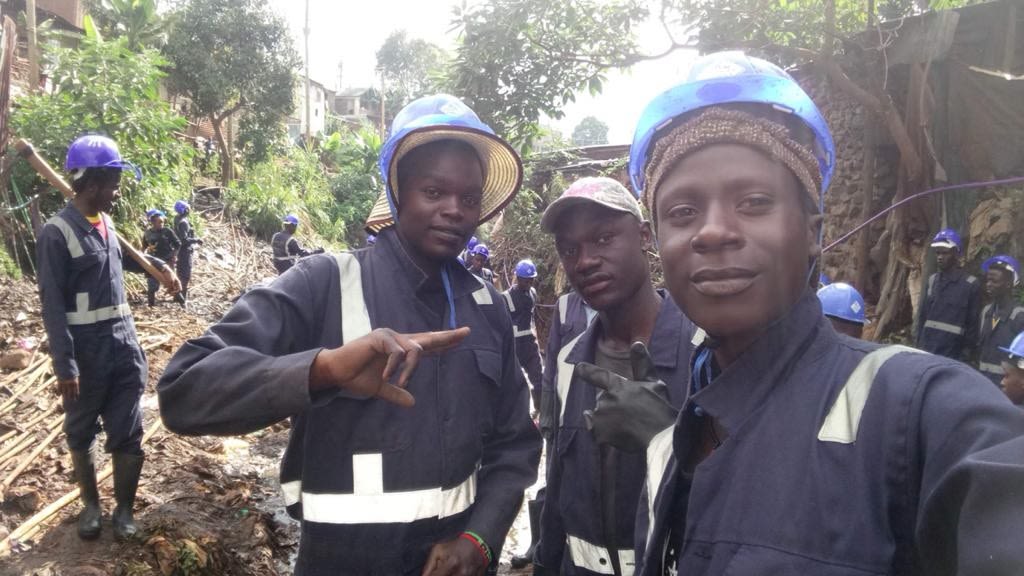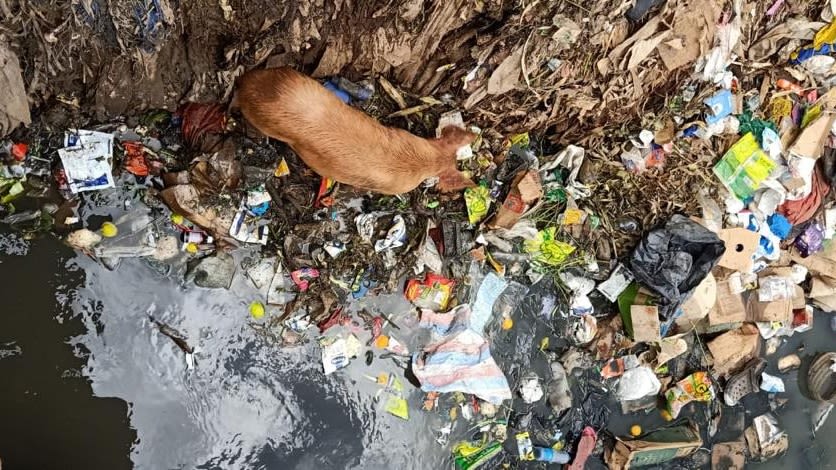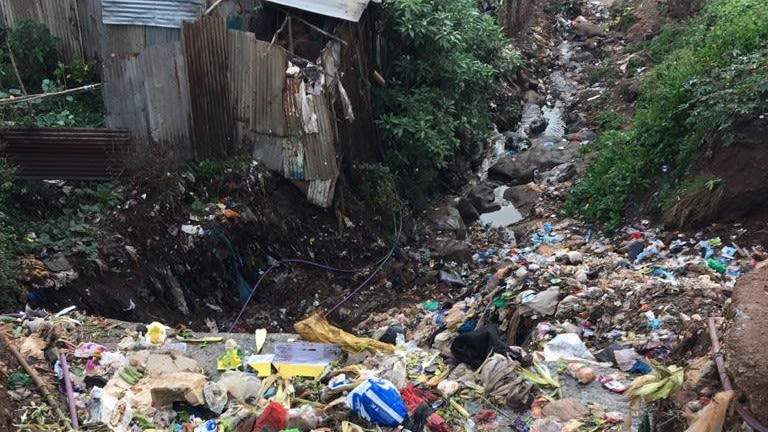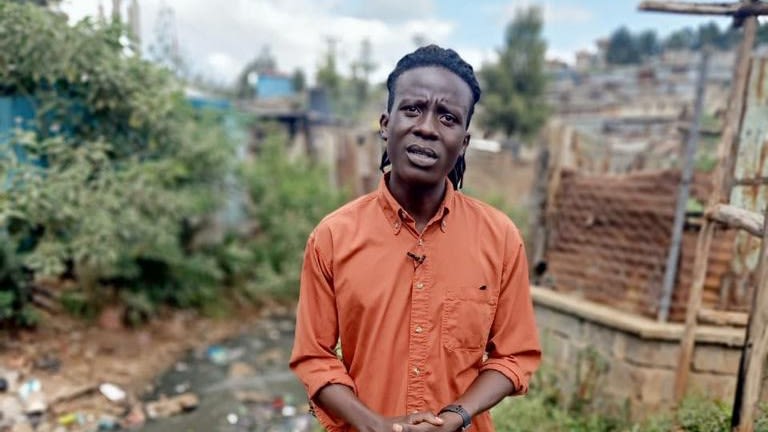 Credits
Presenters Natalie Carney, Marco Colombo, Daniel Arapmoi
Writer Alex Hunt
Podcast producers Sarah Parfitt, Alice Castle, Terry Wilson
Video producers Susan Blackburn, Terry Wilson
Animation and design James Sandifer
Season editor Elizabeth Mearns